pdfFiller is not affiliated with IRS
IRS W-2 2003 free printable template
Show details
Hide details
Employers Please Note Specific information needed to complete Form W-2 is given in a separate booklet titled 2003 order those instructions and additional forms by calling 1-800-TAX-FORM 1-800-829-3676. Be sure to ask the employer to file Form W-2c Corrected Wage and Tax Statement with the SSN or money amount error reported to the SSA on Form W-2. If your name and SSN are correct but are not the same as shown on your social security card you should ask for a new card at any SSA office or call...
Get, Create, Make and Sign
Get Form

eSign

Fax

Email

Add Annotation

Share
How to fill out 2003 w 2 form
01
To fill out the 2003 W-2 form, you will need to gather your personal and employment information. This includes your full name, Social Security number, and address.
02
Next, you will need to provide information about your employer. This includes their name, address, and Employer Identification Number (EIN). You can find the EIN on your previous year's W-2 form or by contacting your employer's payroll department.
03
The form also requires you to report your wages, tips, and other compensation received during the year. Enter this information in Box 1.
04
If you had any federal income tax withheld from your paycheck throughout the year, you will need to report this in Box 2. This information can be obtained from your pay stubs or your employer's payroll department.
05
Additionally, you may need to report any income related to social security or Medicare in Boxes 3 and 5 respectively. These amounts can be found on your previous year's W-2 form or by consulting with your employer.
06
Box 4 is used to report any Social Security tax withheld, while Box 6 is for reporting any Medicare tax withheld. Check your pay stubs or consult with your employer to gather this information.
07
If you received any dependent care benefits or were part of a retirement plan, you may need to report them in Boxes 10 and 12 respectively. Refer to your previous year's W-2 form or consult with your employer for the necessary details.
08
Finally, review the form for accuracy and ensure that all required fields are completed. Sign and date the form before submitting it to the appropriate tax authorities.
As for who needs the 2003 W-2 form, it is necessary for individuals who were employed during that tax year and received wages, salaries, or other compensation subject to income tax withholding. Employees require this form for filing their federal income tax returns accurately. Additionally, employers also need to provide a copy of the completed W-2 form to their employees for their own records and tax purposes.
This is how it works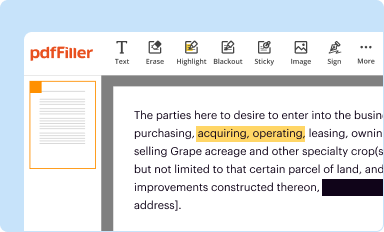 Edit your 2003 w 2 form form online
Type text, complete fillable fields, insert images, highlight or blackout data for discretion, add comments, and more.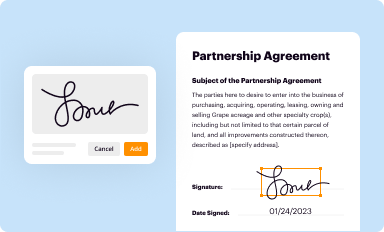 Add your legally-binding signature
Draw or type your signature, upload a signature image, or capture it with your digital camera.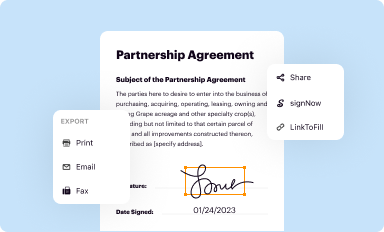 Share your form instantly
Email, fax, or share your 2003 w 2 form form via URL. You can also download, print, or export forms to your preferred cloud storage service.
How to edit 2003 w 2 form online
To use the professional PDF editor, follow these steps:
1
Log in to your account. Start Free Trial and register a profile if you don't have one.
2
Upload a document. Select Add New on your Dashboard and transfer a file into the system in one of the following ways: by uploading it from your device or importing from the cloud, web, or internal mail. Then, click Start editing.
3
Edit 2003 w 2 form. Rearrange and rotate pages, add and edit text, and use additional tools. To save changes and return to your Dashboard, click Done. The Documents tab allows you to merge, divide, lock, or unlock files.
4
Get your file. Select the name of your file in the docs list and choose your preferred exporting method. You can download it as a PDF, save it in another format, send it by email, or transfer it to the cloud.
Not the form you were looking for?
What Is a W-2 Form definition?
The W-2 form is one of the most frequently used forms by taxpayers. It is also called the Wage and Tax Statement. An employer fills this document for their employees. The W-2 form for 2003 is short but informative and extremely important for taxpayers as the data is crucial to complete tax return documents.
Additional Requirements on W-2 Tax Form
The W-2 form 2003 should be filed using several copies. One copy goes to the employee, the second to the Social Security Administration, and the third to the local state tax department. The last three copies stay with the company, so all documents are kept in paper or digital storage for four years if needed for a tax audit. The Social Security Administration reviews W-2 forms to stay informed of employee payments. Providing the wrong data can lead to problems with the IRS and SSA, so ensure you have provided the correct, up-to-date, and relevant information.

To avoid problems or delays, encourage employees to inform you about any changes to their addresses, legal names, marital statuses, etc., as soon as possible. This way, you will have the most accurate details for every employee to complete corporate documents correctly. Remember that officially hired individuals file the W-2 tax form. Independent contractors, who provide their services to the company but are not employed, should file forms with another tax return. Those individuals should carefully track their payments, as only they are responsible for reporting them to the local IRS department.
W-2 Tax Form Parts
Before you begin filling out the W-2 tax form, let's take a closer look at its components. We highly recommend employers speed up the form filling process by using a template with fillable fields. The document contains general information about the employer, employee, and tax payments, particularly the withdrawal sum. Filling out the form may seem complicated with its numerous small boxes and data fields. We will review each of the sample's items to help everyone who handles the W-2 form for 2003. Let's take a closer look at what details the employer should include about the company:
The full name of the business or company
Complete office address with the ZIP code
Correct Employer Identification Number
The State ID Number and control number (needed for record-keeping purposes)

The employee's details include their first and last name and complete mailing address with ZIP code. The tax part is divided into several separate cells, itemizing general and particular payments and tips. We'll take a closer look below.
Form W-2 Instructions
Every item in the W-2 tax form has a header for better navigation. The document contains three main parts.
The First Part — General Details
The left part of the W-2 tax form includes the following details about the company and the hired employee:
Cell a - Employee's Social Security Number. It is essential to provide the correct number as mistakes can lead to delays in tax report acceptance.
Cell b - Employer Identification Number.
Cell c - Employer's or company's full official name, address, and ZIP code.
Cell d - Control number, assigned by the payroll processing system, used in your company.
Cell e - Employee's full name, last name, and initial.
Cell f - The postal address of the hired person, including their state, city, street, and ZIP code.
The Second Part — Tax Payment Details
The second part consists of itemized financial information:
Includes tips, wages, or any other compensation.
Contains the federal income tax withheld.
Social security wages.
Social Security tax withheld, counted on the employee's behalf.
Medicare wages and tips may be used to report in the 8959 form like additional Medicare Tax.
Medicare tax withheld. The sum is 1.45 percent on the whole sum of Medicare tax withheld. If those tips increase by 200,000 dollars, an additional tax is used.
Social Security tips to record the income reported by the employee to the employer.
Allocated tips - separate from items one, three, seven, or five. Those tips can be counted when filing the 4137 form; check the amount from there.
Verification code, used by those who file the template electronically, should contain only numbers and letters from A to F. With it, the IRS can better identify the data submitted while filing your return.
Dependent care benefits. If the employee has children or dependents, it is essential to include the number of payments in this cell. If they increase to five thousand dollars, report them in the first box.
Non-qualified plans. This box is for those who get non-qualified deferred compensation. If the individual had distribution and deferral for one tax year, they are not provided here.
Deferral status for the Internal Revenue Service. It may be used for elective deferrals, designated Roth contributions plans, and simple plan deferrals. There are several codes used in the concrete case. Thus, read the form instructions carefully to use the most applicable code for the employee. It may be more than one category.
Tax payment plans, including the status of an employee, retired person, or third-party sick pay.
Report any additional information not applicable to any box. This includes the state disability tax withheld, non-taxable income, health insurance premiums, uniform payments, etc.
The Third Part — the State Tax Payment Details
The bottom of the W-2 tax form is to provide details about state taxing:
15 — the employee's state ID number
16 — State tips, wages
17 — Income tax withheld, paid to the state budget
18 — Local tips, wages, and other payments
19 — Local income tax amount
20 — Locality or city name where the taxes are paid

The last part of the W-2 form for 2003 is applicable to the employer only, as the company pays taxes according to the general tax law and the local state budget. Business laws may vary from state to state; that is why it is crucial to provide this information for the place of your business.
W-2 Form 2003: Terms and Requirements
Be sure to review the general requirements and tips to file the W-2 tax form. Below is a list of recommendations for your consideration.
File Templates in Electronic PDF Format
The general requirement for a W-2 tax form is to send it to your employees and governmental and state institutions by US mail or by electronic mail. It is also possible to complete the W-2 form online, sign it electronically, and create a hard copy on a blank piece of paper. Those who have many employees, more than two hundred and twenty, are required to file the record digitally, as it is much easier for the IRS to process numerous electronic documents rather than paper copies. Additionally, e-filing will save you time, and the templates are easy to review, thanks to the printed text format. With this printable W-2 form template, the Social Security Administration will automatically generate the submission record.
Keep Track of Deadlines
Complete and send all samples for the previous tax year before the thirty-first of January. This way, you and your employees will avoid penalties and misunderstandings with government institutions. First, send documents to the Internal Revenue Service to avoid paying penalties. The minimal late-filed fee is fifty dollars per document if filed late but sent during the first thirty days after the deadline. Those who file later than one month after the due date will have to pay one hundred and ten dollars for every document. Records filed later than the first of August will be fined two hundred and eighty dollars per employee. The amount of penalties may vary from $571,000 to $3,426,000 for large companies and from $187,500 to $1,142,500 for small businesses. That is why it's crucial to complete all W-2 forms for 2003 on time. For employees, it's best to send documents at the beginning of January to give yourself time to make any corrections or clear up any misunderstandings.
Check Everything Twice
Remember that every item provided in the W-2 tax form should match all other documents. If you have some differences, the IRS will want to know why they are different due to the possibility of additional checks and penalties. Those who do not provide tax information, especially for tips, will be required to pay the highest tax rate. Do not add dollar signs in the fields with sums and use black font while completing the fillable W-2 form online. Mind that you must include decimal points as cents. Any information provided incorrectly may also be cause for incurring penalties. If any circumstances not under your control influenced the templates to be filed incorrectly, provide evidence to the IRS.
Attach a Copy of the Form to any Tax Return Documents
To prove the information in the tax documents, provide the records and any supporting documentation, and a Form W-2 (Tax and Wage Statement). If an employer does not give the form to you on time, it is important to send a request for the document to your company's office.
Pay Taxes Quarterly
Do not leave your payments for the last moment. Instead, you can divide them into smaller, more manageable payments. Businesses file numerous documents every financial year, which is why they should simplify document management processes. Careful tracking and paying taxes quarterly can reduce difficulties and confusion as well.
Don't be Afraid to Correct a Mistake
If you've noticed a mistake in a W-2 form for 2003 after filing it, it is better to correct it and file a new copy. Otherwise, you may have problems in the future. Taking steps to correct the mistake proves that you knew about it and tried to fix it as soon as possible.
Keep all Records in Each Employee's File
A hired individual may fail to receive their document due to incorrect contact information. Do not delete or throw out notifications for receiving USPS or email messages. Keep them as proof that you did everything right from your side. Try to contact an employee and inform them about your case. They should provide you with the correct information. If you cannot connect with an employee, the notification will be adequate proof.
Register Online With the Social Security Administration
Users registered at this online platform have the opportunity to e-file and track reports you've provided. The system will show the application status and error reports (for example, a mismatch in name and SSN). You can use this service to check the W-2 tax form was submitted.
Hire a Qualified Accountant to Avoid Mistakes
A company with more than fifty employees may face problems during the tax season. There is a lot to know about processing payments, so it is best to hire a specialist.
Use the Software or an Online solution for Storing Documents and E-filing
Reporting taxes withheld and filing W-2 forms online would be challenging without the use of specialized tools designed to accelerate the form-filling process. Use pdfFiller to manage and file the W-2 form online – and streamline tax paperwork processes.
How do I fill out the W-2 form in 2004?
Follow the guidelines below to prepare the W-2 form online:
Select the orange Get Form button.
Click the first orange field to insert information.
Navigate through the document using Enter or Tab buttons.
Turn on the Wizard mode to avoid missing required fields.
Double-check the document.
Click Done and export the file in your preferred way.
IRS form w-2 is used to report an employee's annual wages and the amount of taxes withheld from their paychecks this does not include independent contractors who file taxes with different forms such as form 1099 you can either download your w-2 from the IRS website or use PDF filler where the w2 form can be completed signed and submitted electronically this is what an IRS form w2 looks like boxes a through f on the left represent employee employer information start by filling out your employee's social security number enter your employer identification number the name and address of your business your employee's name and their address proceed to complete the numbered boxes one through twenty box one shows gross wages tips and any other compensation received by an employee while box 2 shows the total amount of federal income tax withheld from employee wages for the year box 3 details the amount of social security wages for the year box 4 indicates the total social security tax withheld box 5 spells out the total medicare wages while box 6 indicates how much medicare tax was withheld box 7 reports social security tips received and box 8 indicates how much the employer reported in tips paid to the employee you can leave box 9 blank since it reflects a now defunct tax perk box 10 reports any dependent care assistance that was deducted from employee wages as well as any employer contributions box 11 details any distributions from non-qualified deferred compensation plans box 12 is used to report a variety of tax-deferred compensation benefits and non-monetary compensation box 13 has three sub-boxes to report payments that are not subject to federal income tax withholding if the employee participated in an employer-sponsored retirement plan or received sick pay via an insurance policy box 14 allows the employer to report any other additional tax information boxes 15-20 relate to state and local taxes including the amount of the employees pay subject to these taxes and the amount that was withheld once all the fields are completed and checked off save the document to your device or securely share it with your recipient via email fax USPS or SMS.
FAQ
What is w 2 form?

The W-2 form, also known as the Wage and Tax Statement, is a document used in the United States to report an employee's annual wages and the amount of taxes withheld from their paycheck. The form is prepared by employers and provided to employees at the end of each calendar year. It includes information about the employee's earnings, federal and state tax withholdings, and other financial details important for filing the individual's income tax returns.

Who is required to file w 2 form?

Employers are required to file Form W-2 for each employee to whom they have paid wages, salaries, or other compensation withholding income tax, Social Security tax, or Medicare tax.

How to fill out w 2 form?

To fill out a W-2 form, follow these steps: 1. Obtain the necessary information: - Employer's name, address, and Employer Identification Number (EIN) - Employee's name, address, and Social Security Number (SSN) - Employee's wage and tax-related information 2. Fill out the employer's information: - Enter the employer's name, address, and EIN in the designated boxes at the top of the form. 3. Fill out the employee's information: - Enter the employee's name and SSN in the designated boxes in the employee information section. 4. Fill out the wage and tax-related information: - Enter the employee's wages, tips, and other compensation in Box 1. - Enter any federal income tax withheld from the employee's wages in Box 2. - Enter any Social Security wages withheld in Box 3. - Enter the Social Security tax withheld in Box 4. - Enter any Medicare wages and tips withheld in Box 5. - Enter the Medicare tax withheld in Box 6. - If applicable, enter any dependent care benefits in Box 10. - If applicable, enter any non-qualified plans in Box 11. - Complete the remaining boxes as necessary for state and local tax reporting. 5. Sign and distribute the form: - The employer must sign and date the form in the designated area. - Provide copies of the form to the employee, Social Security Administration, state and local tax agencies as required. 6. Retain a copy: - Keep a copy of the W-2 form for your records. Note: It is recommended to consult a tax professional or refer to the IRS instructions for specific details and requirements related to your situation.

What is the purpose of w 2 form?

The purpose of the W-2 form is to report an employee's annual wages and the amount of taxes withheld from their paycheck by their employer. It is used by both the employee and the Internal Revenue Service (IRS) to determine the individual's tax liability and to ensure accurate filing of their income taxes. The W-2 form also provides information such as the employer's identification number, the employee's Social Security number, and other relevant details.

What information must be reported on w 2 form?

On a W-2 form, the following information must be reported: 1. Employer identification number (EIN) 2. Employee's social security number (SSN) 3. Employee's name, address, and ZIP code 4. Employer's name, address, and ZIP code 5. Total wages, tips, and other compensation paid to the employee during the year 6. The amount of federal income tax withheld from the employee's pay 7. The amount of Social Security and Medicare taxes withheld from the employee's pay (also known as FICA taxes) 8. The amount of state and local income taxes withheld from the employee's pay 9. The amount of any other deductions taken from the employee's pay, such as retirement plan contributions or health insurance premiums 10. The value of any non-cash compensation provided to the employee, such as stock options or fringe benefits 11. Any other relevant information, such as contributions to a retirement plan or participation in a flexible spending account.

When is the deadline to file w 2 form in 2023?

The deadline to file the W-2 form for the tax year 2022 (which is due in 2023) is January 31, 2023. This is the deadline for employers to provide copies of the W-2 form to their employees and to submit the forms to the Social Security Administration (SSA).

What is the penalty for the late filing of w 2 form?

The penalty for late filing of the W-2 form depends on how late it is filed and the size of the business. The penalties are as follows: 1. If filed within 30 days of the due date (by January 31), the penalty is $50 per late W-2 form, up to a maximum of $556,500 for small businesses (average annual gross receipts of $5 million or less) or $1,669,500 for larger businesses. 2. If filed more than 30 days late but by August 1, the penalty increases to $110 per late W-2 form, up to a maximum of $1,669,500 for small businesses or $3,339,000 for larger businesses. 3. If the forms are filed after August 1 or not filed at all, the penalty per late W-2 form is increased further to $270, with no maximum limit. It is important to note that the penalties may vary depending on the state in which the business is located. It is always recommended to file the W-2 forms on time to avoid unnecessary penalties.

How can I send 2003 w 2 form for eSignature?

To distribute your 2003 w 2 form, simply send it to others and receive the eSigned document back instantly. Post or email a PDF that you've notarized online. Doing so requires never leaving your account.

How do I make changes in 2003 w 2 form?

With pdfFiller, you may not only alter the content but also rearrange the pages. Upload your 2003 w 2 form and modify it with a few clicks. The editor lets you add photos, sticky notes, text boxes, and more to PDFs.

How do I edit 2003 w 2 form on an iOS device?

Use the pdfFiller mobile app to create, edit, and share 2003 w 2 form from your iOS device. Install it from the Apple Store in seconds. You can benefit from a free trial and choose a subscription that suits your needs.