Advance Permission to Enter as Nonimmigrant
Documents included in the Advance Permission to Enter as Nonimmigrant forms package: I-192, G-28, FD-258 and other forms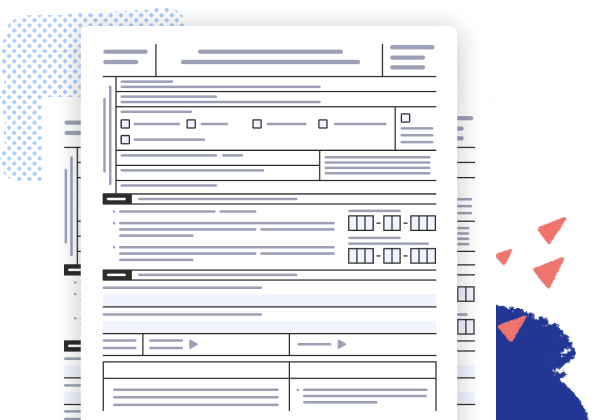 Purchase the Advance Permission to Enter as Nonimmigrant forms package to get these templates
Did you know that you can work with your documents and forms in groups? Discover the Advance Permission to Enter as Nonimmigrant package and many other document packages to spend less and to get the paperwork boosted to meet the deadlines.
All you need to do is open the Advance Permission to Enter as Nonimmigrant forms package. Then, find your document and start editing its content. pdfFiller is equipped with a fully-featured online text editor, which makes the process of editing forms online simple for all users. It features tools you can use to customize the layout of template and make it look professional. Select a specific option from the sidebar to insert new fillable fields, add or delete text, add image, signature, and many more.
There's no reason to download or install anything. Carefully fill in all the required information in your form, add a legally binding electronic signature, and click Done when the document is good to go.
pdfFiller saves you time and effort with instant access to its robust selection of editing features and a large online library of ready-to-use templates. Now, the document management and editing process are as fast and effective as never before. Improve your perfect workflow and submit important documents accurately and efficiently.
Forms description
Form I-192 allows inadmissible nonimmigrant aliens to apply for advance permission to temporarily enter the United States. Grounds of inadmissibility can be found in the Immigration and Nationality Act (INA) section 212(a).
Form G-28 is a U.S. immigration form issued by the U.S. Customs and Immigration Services (USCIS) indicating that an applicant has selected a legal representative to handle applications, petitions, and appeals related to immigration. This representative must be accredited by the Board of Immigration Appeals (BIA).
This file card (blue) is used for civil submissions to the FBI pertaining to individuals applying for criminal justice positions.
Form G-325A is a USCIS form that collects biographical information of the applicant. It is a supplemental form that is only required in special cases. ... The information collected on Form G-325A allows the USCIS to check the applicant's or petitioner's background. The form is fairly simple to complete.
Advance Permission to Enter as Nonimmigrant FAQs
Below is a list of the most common customer questions. If you can't find an answer to your question, please don't hesitate to reach out to us.
What is a Form I 192?
I-192, Application for Advance Permission to Enter as a Nonimmigrant. Use this form if you want to apply for advance permission to temporarily enter the United States and you are an: Inadmissible nonimmigrant and already have the appropriate documents; or.
What is a valid G 28?
G-28, Notice of Entry of Appearance as Attorney or Accredited Representative. Use this form to provide information about your eligibility to act on behalf of an applicant, petitioner, or respondent.
How do I get FD 258?
Visit a PrintScan office location. Get fingerprinted on a live scan machine. We print out the card. We send the fingerprint file to the FBI. We email you your FBI background check in 24- 48 hours!
Is the G 325a still required?
Form G325a Is No Longer Required Form G-325a is no longer in use. It was required only in certain cases in the first place, and this form is completely out of use now. Form G-325a was discontinued in early 2017 and is now replaced with other forms.
What our customers say about pdfFiller
See for yourself by reading reviews on the most popular&nbspresources:
Amazing and simple to figure out and use!
Its really user friendly! I have 2 rental properties and am planning on opening a small retail shop. I hope to be able to use PDF filler in a more broader business organization