International Application for Admission and Scholarship
This package includes the following forms: Personal Essay and Essay Cover Sheet, IELTS report, TOEFL report and other forms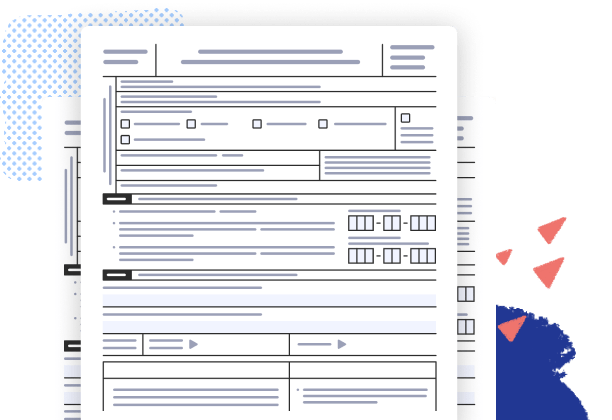 Purchase the International Application for Admission and Scholarship forms package to get these documents
Did you know that you can process your documents and forms in groups? From now on, any legal, tax, or other documents that you need to fill out are easily accessible within a bundle.
Now you can get all the forms required for filing for tax deduction, certification request, or other common purpose, all in one place, ready to fill out and send out right away. The International Application for Admission and Scholarship forms package, like other deals available, offers a pack of templates you can submit and file unlimited number of times. Change the structure of your document and edit its content. There are various amending and personalizing features accessible, all of them sorted into separate convenient toolbars according to the cases they serve. Once finished, click Done and now you're ready to send the forms out.
There's no downloads or installation processes. Carefully fill in all the required information in your form, add a legally binding electronic signature, and click Done when you're ready to go.
pdfFiller saves you effort with instant access to its robust selection of editing features and the largest online library of ready-to-use templates. The editing process and document management are as fast and productive as never before. Streamline your perfect workflow and submit important documents accurately and efficiently.
Forms description
Your IELTS Test Report Form will show a score for each of the four skills (Listening, Reading, Writing and Speaking) and an overall band score. You can score whole band scores (for example 5.0, 6.0, 7.0) or half band scores (e.g. 5.5, 6.5, 7.5) in every section of the test.
Like the Student Report, this report contains a student's ACT scores and college and career planning information. A high school may put this information on the student's transcript, which will be sent to the colleges to which he or she applies.
The term personal financial statement refers to a document or spreadsheet that outlines an individual's financial position at a given point in time. The statement typically includes general information about the individual, such as name and address, along with a breakdown of total assets and liabilities.
International Financial Recommendation Form. This form should be completed by a school administrator, employer, religious leader, or someone who can make a statement about your personal and financial resources, as well as barriers, as they relate to your pursuit of higher education.
International Application for Admission and Scholarship FAQs
Below is a list of the most common customer questions. If you can't find an answer to your question, please don't hesitate to reach out to us.
What is a cover sheet for an essay?
Cover pages can include the name of your school, your paper title, your name, your course name, your teacher or professor's name, and the due date of the paper. If you are unsure of what to include, check with your instructor.
Can I see my ielts result online?
If you have taken the computer-delivered IELTS test, you can preview your results online within 2-5 days after your test date. You'll need your passport number, personal details, and your test date to retrieve your results. Your results will be available online for 2 years.
What is Toefl score report?
A Note on Recent Changes to the TOEFL Score Report In short, if a student takes the TOEFL more than once, their score report will show their best scores from each time they took the exam. This means that score reports for exams taken after August 1, 2019 will always show a student's top section scores.
What is an SAT score report?
Total SAT® scores range from 400 to 1600. Your total score is the sum of your section scores. If you took the SAT with Essay, you'll see three scores that measure your reading, analysis, and writing skills. Each ranges from 2 to 8.
How do you find out your ACT score?
Your ACT scores will be posted on the official ACT, Inc. website a few weeks after you take the test. They will not be emailed to you directly, so you'll have to access your scores yourself by logging on to your ACT account.
What is the meaning of academic record?
record, which usually means all courses taken, all grades received, all honors. received, and degrees conferred to a student. Also Known As: school transcript, academic transcript, college transcript, academic record. Page 2.
What is a financial need statement?
What Exactly is a Statement of Financial Need? It is a short letter, usually about two or three paragraphs, that explains why you would benefit from being awarded a scholarship. This is not a debit-and-credit sheet such as the FAFSA application requires. The Statement of Financial Need should be concise and compelling.
Is Berea College free for international students?
No student pays tuition at Berea College. Berea College is the only school in the United States that provides 100% funding to all enrolled international students for the first year of enrollment. This combination of financial aid and scholarships offsets the costs of tuition, room, board, and fees.
How do I write a letter of recommendation for admission?
Think carefully about saying yes. Focus on the particular school. Collect information. Mention how you know the student. Include specific examples. Remain positive. Avoid clichés. Share your contact information.
What our customers say about pdfFiller
See for yourself by reading reviews on the most popular&nbspresources:
Difficult in learning how to send to Medicare. They sent back because it was not back to back and claimed it was a copy.
I used to the old pdfiller where I can delete pages that I do not need. Maybe, It is also available here and I just need to take time to learn of how to delete pages that I do not need and able to edit even after completing and saved the doc.