Non-residents IRS return forms package
Templates included in the Non-residents IRS return forms package forms package: 1040ez 2016 forms, imm5707, personal data sheet and other forms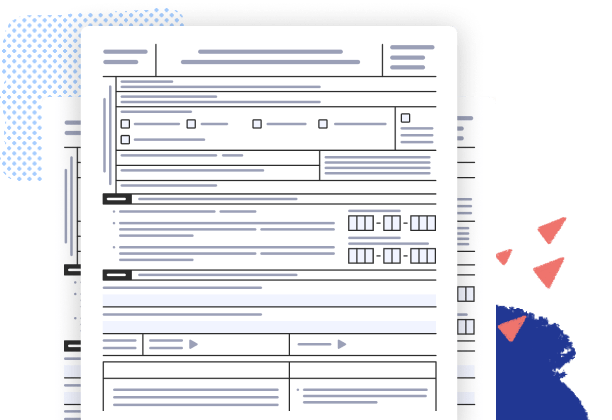 Purchase the Non-residents IRS return package to get these documents
Did you know that you can get and complete all the documents for specific objective all at once and save money? Get the Non-residents IRS return forms package and many other document packages to spend less and do your paperwork much better to meet the deadlines.
Browse the contents of the Non-residents IRS return package to get started. Then, find the required document and start editing its content. pdfFiller is equipped with a fully-featured online text editor, which makes the process of editing forms online effortless for all users, without taking their computer skills and experience into account. It features features you can use to individualize your document's layout and make it look professional. Select a dedicated option from the pane to insert new fillable fields, add or delete text, add image, signature, and more.
pdfFiller's form bundles allow you to reduce the amount of time it takes to submit an application, complete a tax form, sign a contract, and so on. pdfFiller is a robust, web-based document management platform that features an array of onboard editing features. Don't go another day to find your submissions rejected due to improper formatting - get the Non-residents IRS return forms package, fill out with the required information, put a signature and send, all within a single platform.
Forms description
1040EZ is the shortest federal individual income tax form. It is designed for taxpayers whose filing status is "single" or "married filing jointly" with no dependents.
The IMM5707 is a family information form to apply for a Temporary Resident Visa (TRV) outside Canada. Individuals who are 18 years of age or older must use this form if they apply for a TRV, work permit or as well as a study permit outside Canada.
A personal data sheet provides your biographical and logistical information, including contact information and details such as past places of residence, education, and social or community activities.
The CMS-1500 form is the standard claim form used by a non-institutional provider or supplier to bill Medicare carriers and durable medical equipment regional carriers (DMERCs) when a provider qualifies for a waiver from the Administrative Simplification Compliance Act (ASCA) requirement for electronic submission of ...
Non-residents IRS return forms package FAQs
Below is a list of the most common customer questions. If you can't find an answer to your question, please don't hesitate to reach out to us.
Where can I get 1040ez forms?
During the tax filing season, many libraries and post offices offer free tax forms to taxpayers. Some libraries also have copies of commonly requested publications. Many large grocery stores, copy centers and office supply stores have forms you can photocopy or print from a CD. By Mail.
How do I fill imm5707?
1:02 6:38 Suggested clip Family information form for Canada immigration 2018-How to fill YouTubeStart of suggested clipEnd of suggested clip Family information form for Canada immigration 2018-How to fill
What is personal data sheet for employee?
A Personal Data Sheet (PDS) is used for organizing important information that potential employers could potentially be interested in. Even if a company doesn't ask for a PDS before a job interview this form can be used as a reminder when filling out job applications.
What is the purpose of a w2 form?
The IRS requires employers to report wage and salary information for employees on Form W-2. Your W-2 also reports the amount of federal, state and other taxes withheld from your paycheck. As an employee, the information on your W-2 is extremely important when preparing your tax return.
What our customers say about pdfFiller
See for yourself by reading reviews on the most popular&nbspresources:
so far it has been positive. I had one issue that your customer care specialist was able to resolve very quickly.
Easy, accurate and complete. It assists my business maintain the customer service we pride ourselves on!!