pdfFiller is everything Pandadoc is, and more!
pdfFiller is the only online platform that enables you to Fill, Erase Text, eSign, Fax, Export & Search PDFs or other documents from anywhere, on any device.
Edit PDFs, turn them into online fillable forms, host them on your website or send them for signing
Edit online
eSign
Document hosting
Email
Add annotations
Export
Finding the best PandaDoc alternative
Is it difficult to find an electronic signature solution? As a matter of fact, it's not. Sourcing a suitable option that fits your needs can be a breeze. Using G2 alone, you can quickly get a list of the ten best PandaDoc alternatives for electronic signatures. Then all you are left to do is compare and choose the one that suits you best.
The service, despite not being unique, successfully combines both contract management tools and easy-to-use electronic signatures. PandaDoc is a sales-focused solution that enhances and streamlines core business processes. To completely replace this service, you need more than just a decent eSignature solution. You have to figure out the main components in your own contract and document management cycles, and understand what features you need to streamline them.
Let's start with the basics. Contract management is at the core of every company. On the surface, it seems quite simple. Two parties get together to reach a compromise and come to terms. However, if you look deeper into the details, it turns out that contracting is a rather complex mechanism, which consists of many steps. Each stage in contract management is essential, and violations can lead to reputational damage, profit loss, litigation, and so on.
Some people say that the process includes 8 steps, and some think only about 4 steps. In this long-read article, we're going to break down the entire process into 6 essential steps.
01
Preparation.
Drafting a contract from scratch can take up to several days. You should focus on all the key points that need to be included in the agreement. This step is largely on the legal team, so you need to make sure that your legal counsel possesses all the required information to work with.
02
Negotiation.
This step is devoted to finding common ground on tough issues; you and your partners redline and highlight contracts. The goal is to reach an agreement between the parties that's mutually beneficial.
03
Approval.
This is the most challenging part of the process because you just have to wait. Document delivery and other administrative tasks are rather time consuming. Every missed day negatively affects the lifecycle of a contract.
04
Execution.
Now you can sign the contract. Using an electronic signature, you can close the deal online quickly and easily, without printing or scanning. Despite the myths surrounding electronic signatures, an eSigned contract is equal to a hard copy.
05
Renewal.
Each contract has a lifecycle that needs to be maintained and updated. Tracking key dates for renewal deadlines is a must. When it comes to contract lifecycle, carelessness might lead to higher churn rates and the spread of negative reputation among your clients.
06
Analysis.
If all the previous steps deal with contract development, then the last step refers to the contract management process in general. Calculating KPIs, gauging trends, and highlighting metrics are like fuel for any constantly growing company. But most importantly, here is where you can identify bottlenecks and cope with them.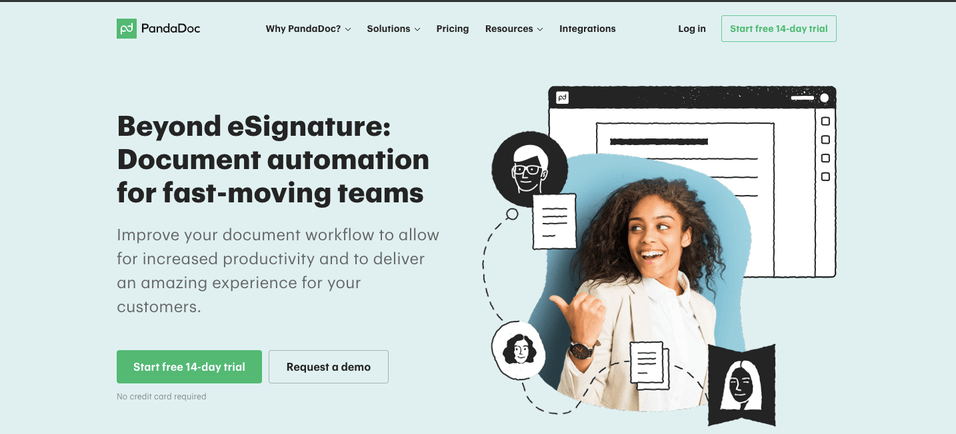 The benefits of PandaDoc
To find a PandaDoc alternative, look at what the service has to offer and where it falls flat. PandaDoc helps you prepare contracts faster using an extensive library of forms. Over 400 pre-approved templates allow you to jumpstart the very first step of the contract lifecycle and complete it in hours, not days, generate proposals consistently, and customize them professionally. You can work closely on the contract's content while the service helps to take care of design and assures that you end up having high quality-looking documents. The solution provides you with a platform where teams and partners can redline and proofread a document in real time, as well as sign it electronically.
Now what about renewal? With the built-in auto-reminder feature, you won't ever have to miss a deadline again. You're also able to review contract metrics, glean insights, analyze expenditures and revenues over time, and more with advanced analytics features. Those are the main reasons why it's difficult to find apps similar to PandaDoc. So, a reasonable question arises: "Do you even need to look for alternatives?" Despite all the irrefutable advantages, the solution is still not perfect, and here's why.
The shortcomings of PandaDoc
Just like any other service, PandaDoc for electronic signatures also has its drawbacks. If you're a freelancer or looking for a solution for personal use, that platform might not be a perfect fit for your needs. The service's price system is quite unfriendly for end users. Only Business and Enterprise Plans allow for the modification of expiration dates in signing requests and documents. One of the annoying cons is the lack of multilingual support. If you're going to close deals worldwide, then inflexible communication is a crucial point offsetting all your efforts.
There are also some issues with editing features, so complete customization of your workflow may become a challenging task. For example, limited cloud storage and lack of a PDF converter should make you think twice before using PandaDoc as a main document management solution. The PDF editor only includes basic functions, so working with documents is not as efficient and productive as it should be. These shortcomings, although not being critical, still are sensible reasons to look for a PandaDoc alternative.
Pricing
PandaDoc offers 4 traffic plans, including a free one.
Free eSign - free plan
Essentials - $19/month per user
Business - $49/month per user
Enterprise - unknown

PandaDoc's Free eSign Plan only includes basic features such as sending signing requests or collecting payments. With this plan, you can upload and send for signing as many documents as you need without any limits. Additionally, you can manage documents via a laptop or a smartphone at no additional cost.
The Essential Plan starts at $19/month per user when choosing an annual plan. If you pick this plan, you get access to a library of templates that you can edit inside the platform. You can track the status of documents from sending to signing. You're also able to use the editor to insert any sort of content; into a proposal or video, for example.
The more expensive one, the Business Plan, costs $49/month per user and helps integrate with CRMs and tools like Zapier. Note that you can only integrate with Pipedrive, Microsoft Dynamics, and HubSpot for free. If you're a Salesforce adept, you'll have to pay an extra $10 per month. It also makes it easier to create easy-to-remember templates with an embedded logo associated with your company.
Optimize processes, get deals closed in a matter of clicks, and route documents between customers and team members for review, approval, and negotiation. If you want to use the Bulk Send feature, you have to pay even more. To figure out the exact fee for this feature, contact sales.
The Enterprise Plan helps create several workspaces and implement processes for each department within one place. Also, you can integrate any process into Salesforce and run it in a few clicks.
If you want a solution that can fully cover contract and document management requirements, pay attention to the last 2 plans mentioned.
Summary
PandaDoc pros:
PandaDoc cons:
02
Limited editor capabilities
Free PandaDoc alternatives
Looking for a PandaDoc equivalent is challenging, especially when it comes to free options. Unfortunately, free apps like PandaDoc can only partly help you to get the job done. But if your business doesn't require sophisticated document lifecycle management, then a free solution from DocHub might be your middle ground.
PandaDoc vs. DocHub
DoсHub offers a limited number of tools, though they are pretty essential. This PandaDoc alternative has only two payment plans, one of which is free.
Free - 0$
Pro - $4.99/monthly per user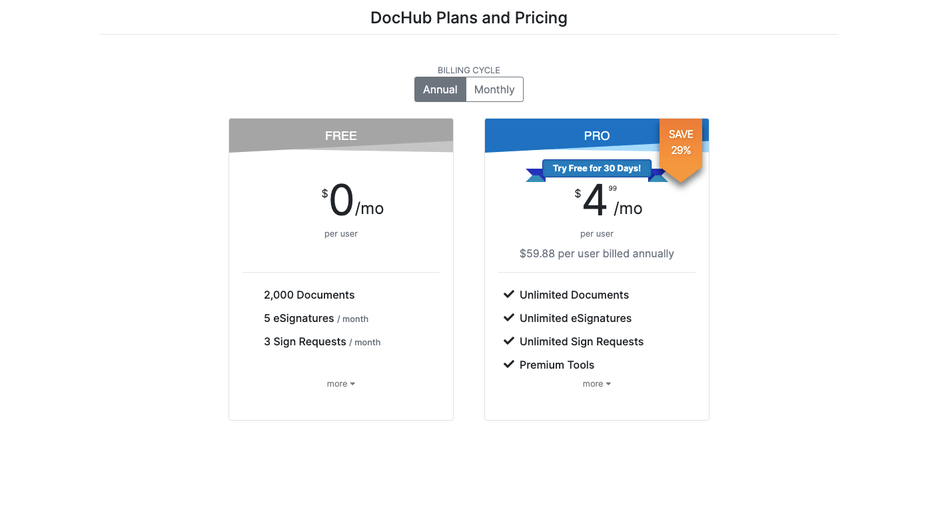 The Free plan allows you to sign up to 5 documents a month and send 3 more for signature, send 3 emails a day, and save up to 7 signatures. This is not enough to replace any contract management software, but it's enough to start closing deals electronically. Additionally, you can create templates and PDF forms that help you reduce the time spent preparing a contract. With the Pro plan, you get access to all of the features listed above but with no limitations. Additionally, you can use the premium tools for adding stamps and dropdown boxes. Take advantage of the Simultaneous Signers feature which enables you to route documents and get a signature on a document from several people at once. Of course, compared to other PandaDoc alternatives, this solution is not that advanced. For example, you can't use Kiosk mode, collect payments, or manage data in bulk mode. You don't have an opportunity to choose a plan that allows you to integrate with CRMs or cloud storage, even for an extra fee. But for its price, DocHub is a stroke of luck for entry-level freelancers.
Pros:
02
Unlimited eSignatures and signing requests
Cons:
DocHub is suitable for individual use but is not worth considering for medium or large businesses. The bottom-line verdict for any free solution is that they can't replace the functionality of PandaDoc.
Paid PandaDoc alternatives
Now, let's switch our attention to paid alternatives that have the potential to benefit your business. Paid services don't offer single-task solutions but rather more complex ones. Check out four worthy PandaDoc alternatives below and find your platform for building out business processes for digital document management.
PandaDoc vs. pdfFiller
While PandaDoc offers only basic document editing tools, pdfFiller is an advanced professional editor. Including many valuable features, pdfFiller should be your number one option if you need to jumpstart digital document management.
Basic - $8/month
Premium - $15/month
Business Cloud - $50/month per user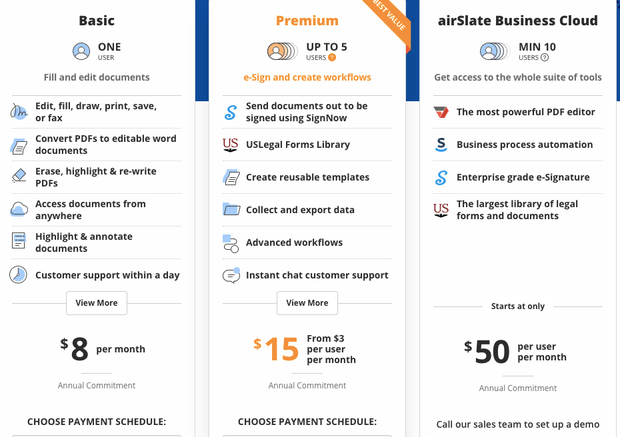 The Basic Plan helps change the original text of a document, turn files into fillable templates, and eSign them. Also, you can receive faxes online for an extra cost. If you are used to doing business on the go, you can install an iOS or Android app to sign documents from your phone, free of charge. Any form you create using pdfFiller can be sent by mail, emailed, shared via a public link, faxed, or hosted on your website. The built-in converter makes it possible to download your forms in any of the popular formats (PDF, Word, Excel, PowerPoint Presentation, or Image).
The Premium Plan is the most popular one and enables you to set up an ecosystem for contract management. You can customize the role-based eSignature workflow. Additionally, you'll be granted access to US Legal Forms, a comprehensive legal forms library. The service enables you to utilize customizable fillable fields, export data, and embed personal branding. You don't need to download a document on your device to import it to your account. Upload it via URL, export it from the cloud, or find it in the pdfFiller library.
The Business Cloud isn't a subscription service but a bundle of 4 products. For $50 you get an advanced PDF editor, a trustworthy eSignature solution, the most extensive document library, and an all-in-one automation platform. This means that you can establish both contract management and document turnarounds using workflow automation. It's the most expensive plan, but it's worth it. Diving into the facts, you pay a dollar more than for the PandaDoc Business plan, but you get a PandaDoc replacement service that can cover the needs of sales teams and all other departments like HR, IT, Legal, etc. Unlike DocuSign, you don't need to pay for each solution separately; you get a set that's suitable for establishing all processes thoroughly.
It's hard to find flaws in this PandaDoc alternative. However, as with any complex solution, it takes some time to learn all the features and capabilities. Fortunately, pdfFiller provides a guide to help you get started with the editor and gradually onboards you, teaching you how to use more and more valuable features.

pdfFiller also has applications that simplify your user experience. You can find specialized applications for both desktop and mobile devices.
Desktop: Easily download the following software for your desktop from the pdfFiller website:
Mobile: Find and add the following apps to your mobile device from the official AppStore and Play Store platforms:
Despite the fact that desktop applications are still under development, and some of the most used features are to be added as soon as possible, the apps already function well and have the capacity to accelerate your document management processes today.
Pros:
05
Legally-binding eSignature
07
Applications for all popular platforms
Cons:
pdfFiller always has something to offer businesses, regardless of their size and number of employees.
PandaDoc vs. Proposify
The Proposify pricing policy doesn't differ from PandaDoc's.
Tall - $19/month per user
Grande - $49/month per user (Billed quarterly)
Venti - unknown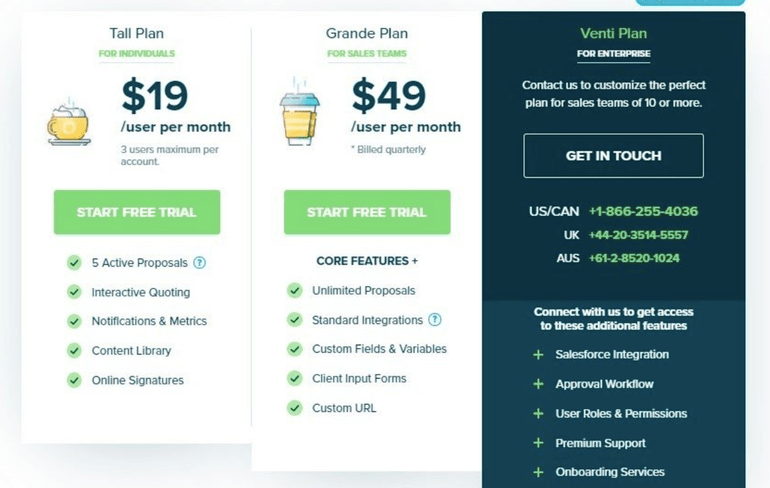 Again, the service's basic plan (Tall) is not sufficient for a complete document lifecycle. Plus, it's only suitable for teams of up to three. With this plan, you can afford 5 active proposals. Active means those that are drafted, sent, and viewed. Proposals that are archived, won, or deleted don't count. Note that the Approval Workflow is available only for the enterprise plan (Venti) users.
Proposify gathers all necessary tools that enable you to build rapport under one umbrella service. This service helps you generate sharp icebreaking proposals, create precise quotes, and close deals online using the eSignature feature. This PandaDoc alternative allows users to auto-populate proposals and pre-fill corresponding data via custom fields and variables. These features eliminate unnecessary manual data entry and costly mistakes.
A great feature of Proposify is the quoting software that helps you give your clients interactive quotes effortlessly. Instead of a stodgy Word doc, you're working with a web form and generating quotes to corresponding clients in clicks. Your prospects can select the services they want, and an interactive fee table calculates everything automatically.
This PandaDoc competitor has an advanced toolkit of editing features that allows you to create eye-catching templates. Leave a personal touch to find some common ground with every prospect. No matter what they prefer, with Proposify, you'll most likely find a way. The service allows your customers to ask questions in real time and you to give a helping hand to them in choosing services that are right for them. Take advantage of metrics to easily reveal trends and catch insights as well as track and accompany your customers every step of the process with professional analytics.
What sets Proposify apart from its main competitor? This PandaDoc equivalent supports about 15 different languages and adjusts the date format or currency accordingly. By taking advantage of the service's capabilities, you can close deals all over the world. The signing interface is more convenient, and allows you to navigate through pages, zoom in and out, and share documents via a link.
So far, so good, but now it's time to talk about shortcomings with the PandaDoc vs. Proposify comparison. You can only collect money via Stripe. The editor's interface is clunky and old-fashioned. Creating a document from scratch is easier than editing an existing one. And although Proposify has a mobile app, you can't make a proposal using it.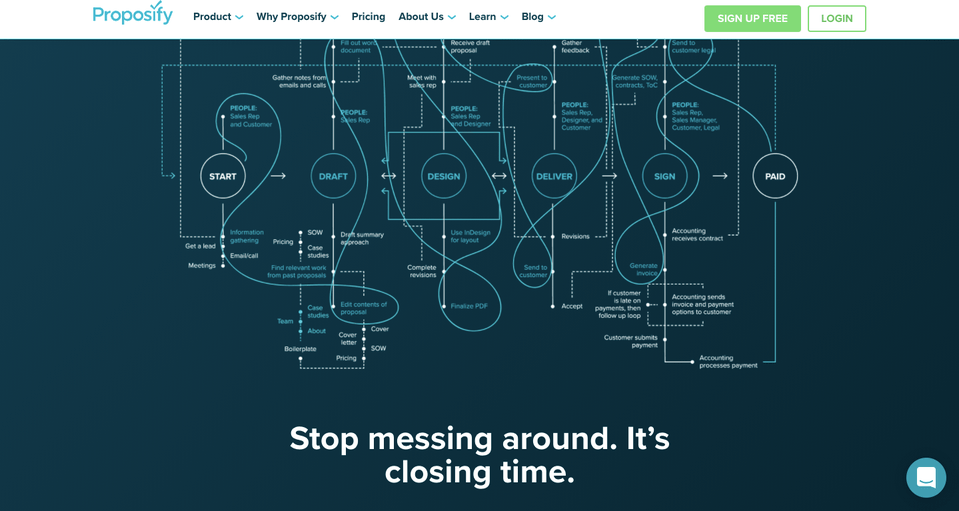 Pros:
03
Advanced editor (more than 600 fonts)
04
Real-time chat with clients
05
Customizable emails, notifications, and reminders
Cons:
01
Limited payment collection options
03
Mobile app with limited functionality
Taking into account that Proposify costs as much as PandaDoc, according to the list of features above, there are less benefits to this PandaDoc alternative.
PandaDoc vs. DocuSign
Although DoсuSign is inferior when it comes to managing contracts when compared to PandaDoc, it's a suitable solution if your primary goal is eSignature over contract generation.
Personal - $10/month
Standard - $25/month
Business Pro - $40/month
Advanced solutions - unknown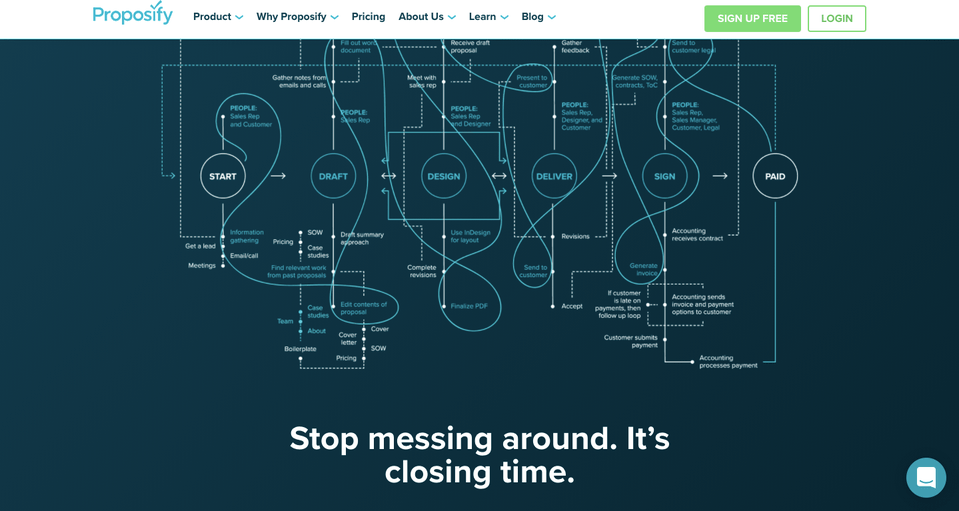 It's hard to compare PandaDoc vs. DocuSign in terms of price. DocuSign has the potential to replace contract management and become a superior PandaDoc alternative in the Advanced Solutions section, but the price for it is unknown. So, first, let's look at what other plans they have to offer.
The Personal plan offers 5 signing requests and basic fillable fields for signature, date, initials, and text content. As you might have guessed by the name, this plan is for single use only. The standard plan is suitable for teams of up to 5 people. In addition, the plan includes features for collaboration, branding, and reminders. The sending volume is 100 envelopes per year. Monthly plans have a pro-rated monthly allowance. A sent request is considered used, regardless of whether it's signed or not. The same applies to Business Pro, with only 100 signing requests per year. Unlike other solutions, this PandaDoc competitor allows you to collect payments with the highest subscription.
The DocuSign Agreement Cloud is a suite of programs and applications that tend to eliminate paper-based processes and build workflow automation. The solution includes about 12 applications and 350+ integrations. The package for each business is unique, so the price varies. You are free to pick the services that you need, to avoid overpaying. For example, to establish contract management, you need DocuSign CLM and eSignature.

DocuSign CLM helps you to boost contract management. Using the solution, you accelerate the pace you are doing business by eliminating repetitive tasks. This PandaDoc equivalent provides an optimized and automated workflow that maintains, supports, and prolongs the contract lifecycle. Any process can be easily integrated into a third-party business application like Salesforce and NetSuite. Configurable workflows route templates between parties and services for approvals, redlining, and so on. The service helps you organize all agreements and contracts within one storage and find any of them in clicks. Additionally, you get a complete set of metrics and analytic tools for the entire process and each document. As part of the DocuSign Agreement Cloud, CLM provides a smoother contract lifecycle management based on precise and well-timed analytics.
Pros:
04
Workflow automation capabilities
05
Legally-binding eSignature
Cons:
01
Limited signature requests
Without knowing the price, it's simply impossible to recommend this PandaDoc alternative. But in terms of the feature set, DocuSign outshines most others for sure. If you are ready to pay more and get a solution that fits your business according to all demands, consider contacting the DocuSign sales team.
PandaDoc vs. Salesforce CPQ
Salesforce CPQ is software developed especially for sales teams. Sales tools help businesses scale and speed up processes. Customize quotes and contracts according to your product and pricing rules to establish a client-oriented workflow while extending the size of deals.
CPQ & Billing Pricing
CPQ - $75/month per user
CPQ Plus - $150/month per user
CPQ Billing Growth - unknown
CPQ Billing Plus - unknown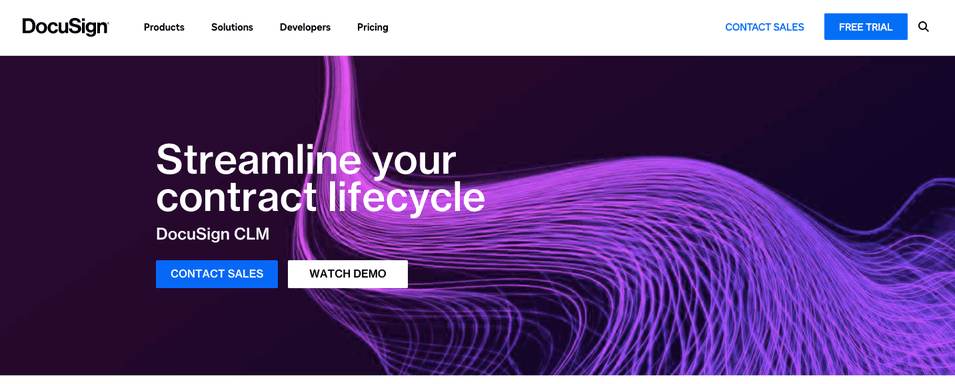 Compared to other apps similar to PandaDoc, Salesforce is much more expensive. But even with a primary subscription, you can create a unified list of services and products to configure, price, and quote complex solutions in a smooth way. The integration between Salesforce CRM and CPQ enables you to manage data within a single solution via any device. It helps you keep things up to date, but more importantly, the approach allows you to build a portfolio for each client to stay on the same page. In addition, you can generate proposals, automate renewals, and facilitate upsells.
CPQ Plus has more things to offer. With this subscription, you can create a pricing strategy and cover sophisticated orders faster, providing you with timely analytics and customer-specific terms. Simply put, you don't waste time offering your customers products they don't need. You hit the target by eliminating unnecessary activity. With an advanced management system, you can segment clients and quotes and leverage the Multidimensional Quoting feature. Because of the many integrations, you can be sure that this PandaDoc alternative is easy to connect to almost any third-party app.
Other subscriptions cover all the typical requirements required by a sales team with process automation. Salesforce eliminates manual processing, optimizes and simplifies electronic payments, establishes revenue schedules, and analyzes trends via AI. With the help of this PandaDoc alternative, you can predict future orders and contracts. Although the price of the plans is unknown, they offer a wide variety of tools that support contract lifecycle management. The feature suite is truly impressive, like parallel revenue schedules, automated payments, and straightforward contract amendments. You can aggregate product usage, reduce client churn and enhance cross selling.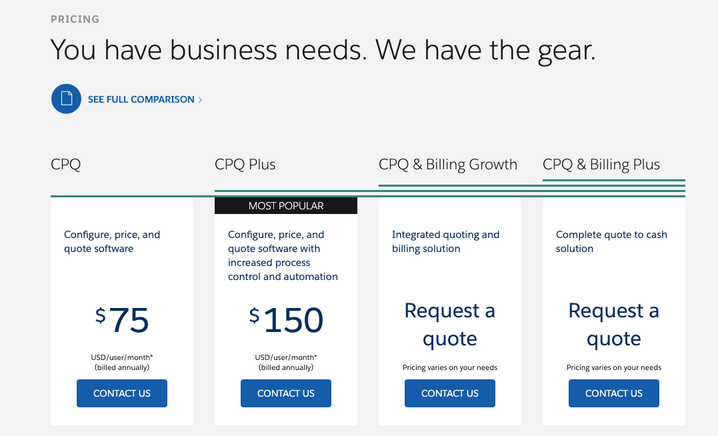 Pros:
04
Orders, approvals, and proposals management
Cons:
Salesforce has the potential to level up your contract management. Unlike other PandaDoc competitors, Salesforce helps users get a full picture of how their process is running. However, the solution is a complicated app with a complex learning curve that seems to never end. Why do companies stick to it? It's enterprise ready in a way that PandaDoc and similar programs aren't.
While you compare the pros and cons of PandaDoc and similar software in this article, keep in mind that your choice doesn't have to depend on the number of features. For many, company size, revenue, and so on are valuable points to consider. We advise that you don't focus on a single solution, but to pick several and test out their free trials or request demos. Keep in mind that the most expensive subscription doesn't always guarantee the best and the most convenient service for your company. The clearer you set the goals for your business, the more likely you are to find a PandaDoc alternative that can help you achieve those goals.
FAQ
For those, who have read to the end, we prepared a bonus section with answers to frequently asked questions.
Is PandaDoc safe?
As the developers claim, security is their priority. If you want to use the platform for the healthcare industry, send ePHI, and process medical records, the service complies with HIPAA, Privacy, Administrative Safeguards, Physical Safeguards, and Technical Safeguards rules. If you want to manage deals in Europe adhering to privacy requirements, the service comes in handy as well. Moreover, if you work in Education, PandaDoc provides school facilities with electronic communication tools and helps build robust rapport with educators, administrators, students, and their parents, all while complying with FERPA demands.
Is PandaDoc free to use?
Unlike many other PandaDoc alternatives, the solution offers a free plan that includes an eSignature solution, mobile app, and payment collecting tool, but other plans require payments. If you want to establish an approval workflow, take advantage of document analytics, and utilize the drag-and-drop editor. Start a free trial to test all the features and get a grasp of how they could work for your business. For example, you can look through the content library or set up an approval workflow. The free trial lasts 14 days, which is enough for exploring, but it may not be enough to test all the functionality that the solution has to offer. Also, additional charges may apply for some extra features.
Does PandaDoc help?
Over 23,000 customers already use the platform. Of course, many agree that the solution helps them to simplify sales processes, create and sign contracts, approve proposals, and so on, but let's look at the statistics. Using this service, you can save 12 hours a week, increase deal closure rate by 28% and reduce document creation cycle time by 65%. Its customers have an average view-to-sign time of 36 minutes. In just a year of use, clients increased the number of concluded contracts by 56%. You can create an agreement in 4 minutes using ready-made templates.
Who uses PandaDoc?
Thousands of companies have chosen PandaDoc over PandaDoc similar software. Among them, you find representatives of almost all industries (Creative, Healthcare, Education, Media, Financial, Legal) and departments (HR, Operations and so on). Tata Steel, Bonusly, TomTom, Drift, and 23 000 more use the platform on a regular basis.
Pdf Editor Online: Try Risk Free
| This chart represents a partial list of features available in pdfFiller, Pandadoc | | Pandadoc |
| --- | --- | --- |
| No Downloads | | |
| Search Form Online | | |
| Edit PDF | | |
| Fill Online | | |
| Sign Online | | |
| Unlimited Cloud Storage | | |
| Annotate PDF | | |
| Fax Online | | |
| Track Sending Documents | | |
| Free Mobile App | | |
Upload your documents now and
enjoy premium features
What our customers say about pdfFiller
See for yourself by reading reviews on the most popular resources:
It's made my reporting easier. It may be that I don't know everything to do on this site, but it would be nice if I could resize the boxes on my form.
I like it but I wish I could just change out a document using the same link to share without having to create a new document.
Upload your documents now and
enjoy premium features