The ultimate guide to splitting PDFs For Free

Upload your document to the PDF editor

Type anywhere or sign your form

Print, email, fax, or export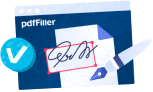 Try it right now! Edit pdf
The ultimate guide to splitting PDFs
If you ever try googling "How to split a PDF" or "How to separate pages in PDFs", you'll probably be overwhelmed with the number of services by the time you reach the end of the first search page. With so many solutions at hand, it requires more and more time to find the right file splitter to edit your documents. However, the answer to all your problems with Portable Document Format files is just a few scrolls away. Read this article to learn more about how to split PDF pages like a professional editor.
How to split a PDF file
Follow the guidelines below to learn how to separate PDF pages online in the fastest and most straightforward way possible:
01
Launch pdfFiller. Open your preferred web browser and go to the pdfFiller website.
02
Log in.
Create an account in less than a minute by clicking the
Start Free Trial
button or simply log in if you already have a registered account.

03
Upload a file.
Find the orange
Add New
button, it's located near the
Search
field. Click on it and choose a document from your device.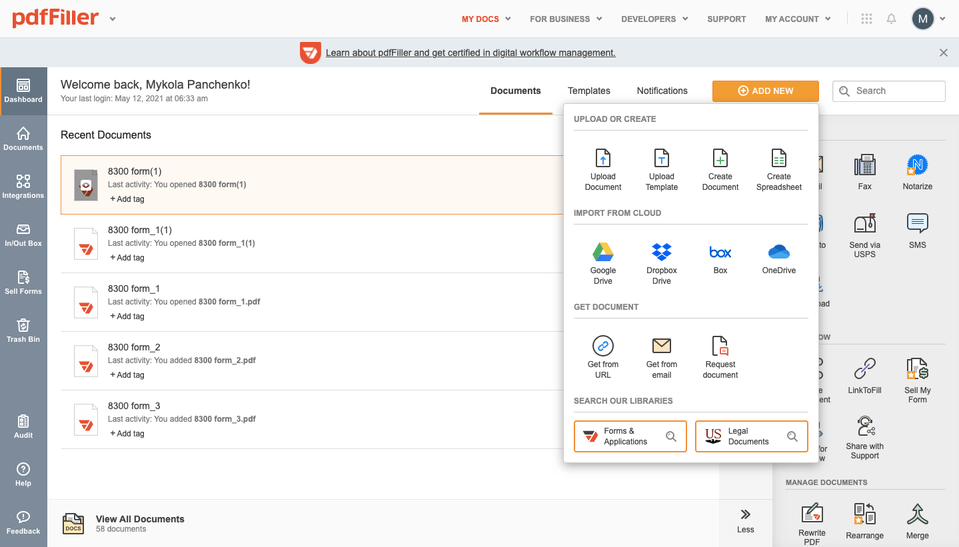 04
Close the editor. Close the editor because the service will open your file automatically. To do so, click Done in the top right corner and return to the Dashboard.
05
Open the Split PDF
menu. Make sure the needed file is selected (it will be highlighted) and scroll the right sidebar to find the
Manage Documents
section. Choose the Split option.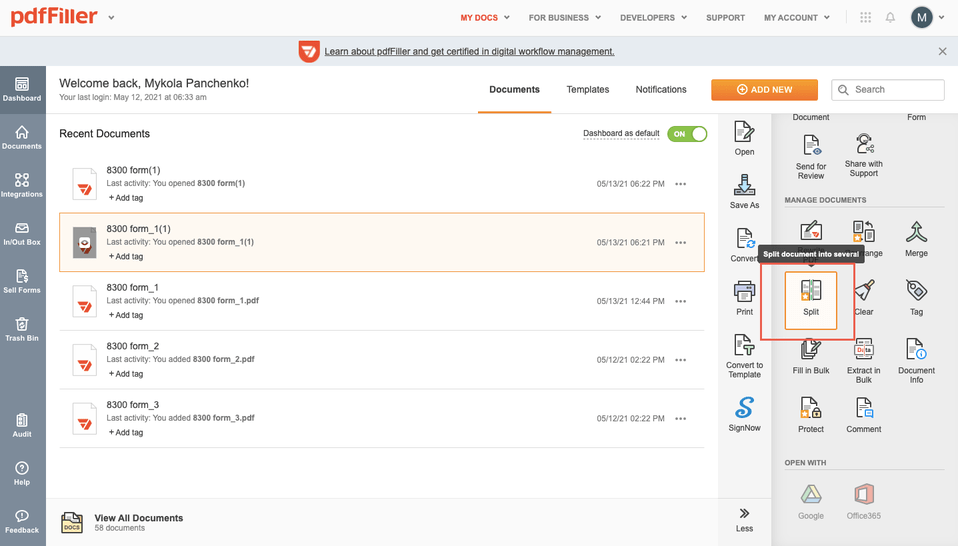 06
Adjust the original doc's page range
. Select page thumbnails by clicking on them to keep them in the original doc. Change the file's name, if required.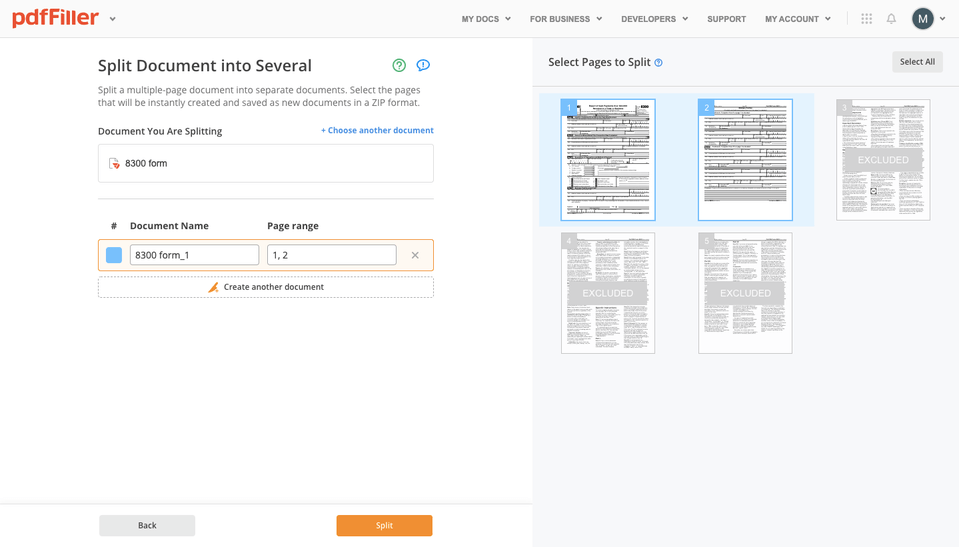 07
Select pages for separation.
Click the
Create another document
option and select page thumbnails to add them to a fresh new doc, if needed. Repeat this step as many times as you need.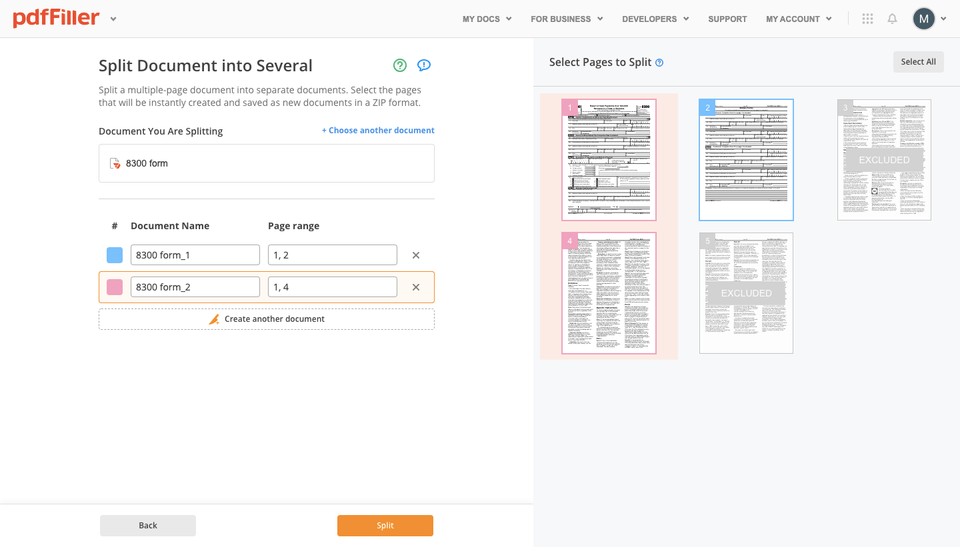 08
Confirm file splitting.
Select the
Split
button to access the export screen. Choose the destination of your doc(s) and click
Download Now.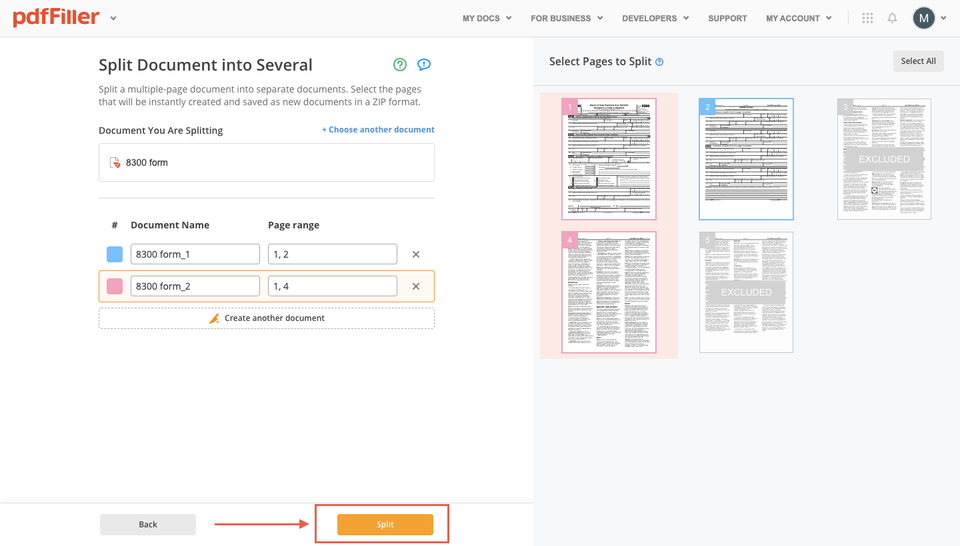 The procedure described above only takes a couple of minutes to complete. After you're done, you can easily archive, edit, send the split doc(s) for signing, or do anything else you want/need with your new PDF file(s).
Other ways to split PDF pages
There are many more ways to divide PDFs than you've probably thought. You can find plenty of solutions on the web, but their efficiency is questionable.
A PDF breaker is an online tool used by individuals and businesses to separate pages within a PDF, usually into separate files. This is done to make documents smaller, not in terms of file size but in terms of read time (length). Let's explore some PDF breakers together to make finding the right one for you easy.
Printing to PDF
If you are a Google Chrome user, there is a trick that can help you split PDFs without using any third-party services. The fact is that this web browser supports the opening of files in Portable Document Format for viewing, filling, and printing. To split a PDF in Google Chrome, simply open a needed file in the browser by using the Open With or drag-and-drop option. Then, click the Print button. In the list of available printing devices, select Save as PDF, define the range of needed pages, and click Save. After that, you'll be able to save a copy of the document to your device.
To split PDF pages in this way seems easy, but it lacks functionality and is not really efficient. Each and every time you'll need to open the app, select printing devices, remember the page ranges, indicate them, and so on. In addition to that, on some devices, by the time you finish editing, you may end up receiving grayscale copies if you only have black-and-white printers.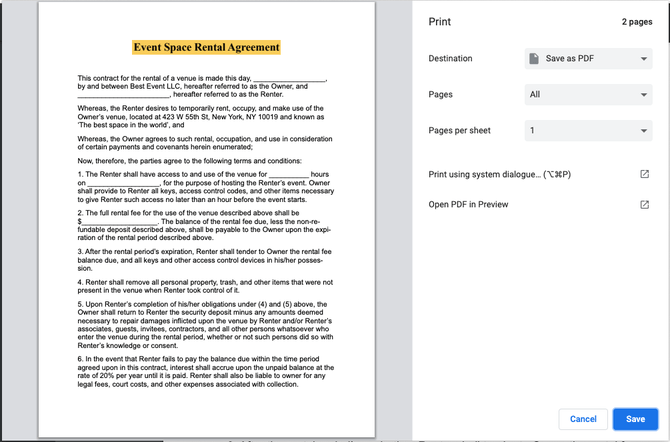 Using Preview as a file splitter
macOS has an advantage over other operating systems like Windows and Linux. macOS users have a program for viewing and minor editing of PDFs. It's called Preview and is installed on Mac computers by default. The set of tools from the Markup toolbar (can be enabled by clicking a marker icon) allows you to add text, draw various shapes, insert lines and signatures, and even add and delete pages.
If you need to cut a PDF file down in terms of its page count, you can simply open the Thumbnails bar (View > Thumbnails), select the pages you need by holding the CMD or Shift keys, and drag them to your desktop to create a new document with the selected range of pages.
Preview allows users to do much more than web browsers, but its capabilities are somewhat tenuous, and it can't be considered as a comprehensive tool for work with files in Portable Document Format. Plus, there's no guarantee that you'll always have your macOS device on hand.
Splitting PDFs with Adobe Acrobat DC Pro
Most likely, you've heard about this software. Adobe Acrobat DC Pro is one of the most well-known programs that handles files in Portable Document Format. Its capabilities are pretty broad, and lots of people around the world buy and install it on their computers. It's easy to divide a PDF using Adobe Acrobat: just open a sample document, enable the Tools sidebar, find the Manipulate Pages section, choose the Split option, and select a page range.
A wide variety of guides and tutorials for Adobe Acrobat will come in handy for both new and experienced users. However, this software has to be installed and might be heavy, especially for internal memory. Another drawback is that in order to get access to the full Adobe Acrobat functionality, you need to buy a subscription (it comes at a hefty price tag). If you're on a limited budget or don't work with PDFs that often, you should probably consider finding cheaper alternatives. Luckily, they exist.
Why pdfFiller is your best service to split PDFs online
The services that are mentioned above aren't unique. They have dozens or even hundreds of alternatives with various toolsets. You can find many of them listed on Google, Bing, and any other search engine. So what makes pdfFiller stand out, and what were the main reasons for millions of people around the world to join the pdfFiller community?
Has many more capabilities than just splitting PDF pages
pdfFiller is a comprehensive solution that allows users to deal with files in Portable Document Format like a professional editor. The ability to split PDF online is just one minor feature among a multitude of others that pdfFiller has to offer to its users. Keep reading to learn more about other helpful pdfFiller capabilities.
Text editing
One of the most common reasons why people may be upset with a PDF as a format is because of the need to have a specialized tool for editing the file. Some users tend to store original files in .docx, .pages, or .rtf extensions to keep the ability to make changes, and export them as PDFs again. With pdfFiller, there's no need to store original text documents anymore because pdfFiller is a specialized tool where you can modify the file content in a matter of seconds. Just make sure you have the Replace Text toggle switched on.
If you need to make a lot of changes in a document, more than just divide PDF pages, consider using the Rewrite PDF option. It'll open a file in another editor section where you'll be able to edit your file in Portable Document Format just like a Word doc.
Page management
Sometimes you might encounter unneeded pages before or after splitting a PDF into multiple files. You can solve this issue in a matter of seconds with the help of pdfFiller. Simply open your document, select the Rearrange option in the left toolbar section, and make necessary manipulations with your pages in a new pop-up window. This feature enables you to move, rotate, delete, or add new pages. Simple!
Fillable fields
The majority of people use Google Forms or specialized services when it comes to collecting information or cooperating with other users within a single document. pdfFiller has a built-in feature that allows you to edit your file and add fillable fields for other users to interact with. Here's what you have to do to create fillable fields in your PDF file. In an opened document (for example, when you try to cut a PDF into smaller pieces), select the green Add Fillable Fields button on the right-hand corner of the screen. A new toolbar will appear, and you'll be able to insert fillable fields with various validation types like request texts, numbers, images, emails, signatures, or even EINs and SSNs. In this way, you'll be able to help the recipient of the document to navigate and fill out the forms correctly, save time on editing, and minimize the occurrence of human errors.
Adding watermarks
Now, what if you have to make sure that a person that you send a document to needs to know that the file is confidential or must be filled by a particular person? The recipient might miss a note or fine print at the bottom of the page that is used for indicating additional important information. pdfFiller has a solution for that case, by allowing you to add noticeable full-page watermarks to your document. In order to add a watermark, click the red Add Watermark button on the right side of the screen. Then, adjust its size, transparency, and angle to make sure that texts in the sample are still readable.
Page numbering
Dealing with documents that include many pages can become a tortuous task. Let's say that you have to print out a big document that's stored on your device. You are very likely to misplace two or three sheets if you edited it. If that happened, you'd have to go over the document, again and again, to find and correct the error. That's one more good reason why people split PDF into multiple files and add page numbers. pdfFiller is the easiest way to do that. In the Add Watermarks menu, select the Page Numbering option and adjust its size, place, and format. By doing this, you'll never miss a page again.
Document management
So, at this point, you already know how to separate pages in PDFs in pdfFiller, but what if you need to merge files? Close the editor, open the Documents folder, select files that need to be combined, place your cursor on More, and click Merge. In just a few seconds, you'll see a new merged document in the folder.
One of the other useful features worth mentioning is bulk sending (the service will import information from an Excel spreadsheet and pre-fill appropriate fields) and templates to make your samples reusable. Standard features like renaming or moving files between folders are simple features, meaning we won't spend time talking about them.
Makes import and export convenient
Typically, when you need to split a PDF online the first step is to upload the document. After you're done with splitting and editing it, you have to download it again. Some sneaky vendors also try to trick you into paying them money by giving you an option to upload and edit documents for free but ask you to purchase a subscription before you can actually download your file. So, how does pdfFiller make these processes smoother and more convenient for users?
Extended importing opportunities
Most file splitters offer device upload capabilities and that's it. 'Advanced" services may also support the drag-and-drop function. However, pdfFiller offers you NINE different ways to upload and then edit, merge, or split PDF pages.
Obviously, just like any other service, you can upload documents from your device. Still, if you have a sample in the cloud, you can transfer it directly to pdfFiller. Our service is integrated with Google Drive, Dropbox, Box, and OneDrive. Click the Add New button, select the needed service, allow pdfFiller to receive the data from the cloud storage, then choose the file you want.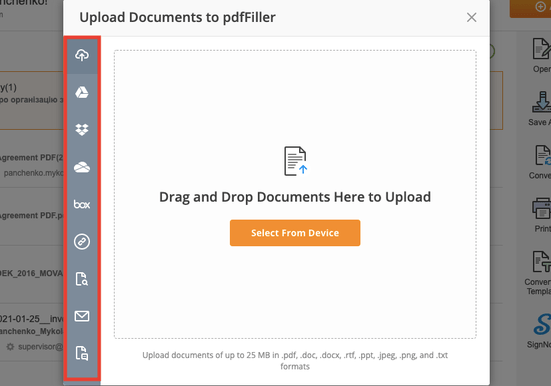 If you need to divide a PDF that was found on the web, you can upload it directly to pdfFiller by pasting the link to it in the appropriate menu. In a few seconds (if the sample is in one of the supported formats), it'll be opened in the editor. You can also consider finding a needed template in the pdfFiller library. We have one of the most extensive collections with more than 10 million forms for numerous purposes.
And last but not least, uploading files using an internal email address. Each pdfFiller customer has their own inbox to request and receive documents. Using this method allows you to import files via email and split PDF into multiple files. It's a nice feature, isn't it?
Advanced exporting capabilities
pdfFiller exporting options deserve a separate article all on their own. However, we'll try to cover them briefly.
When you cut PDF pages into separate files with the help of most PDF breaker tools, you need to download, send, etc., to actually get the new document(s) from the service you used. pdfFiller grants you total freedom to export files in any way you prefer.
One of the most commonly used exporting methods is downloading. Simply click the Download button and download your file in a regular PDF format or use the Save As option and automatically convert your doc into a more specific format like fillable PDF, DOCX, XLS, PPTX, or JPEG prior to downloading it. In addition to that, you can choose where you want to store it: on your device or in the cloud. As we have mentioned earlier, pdfFiller supports integrations with various cloud storages, so you can export a file directly to the preferred service without the need for downloading it to your device and then uploading it to the cloud again.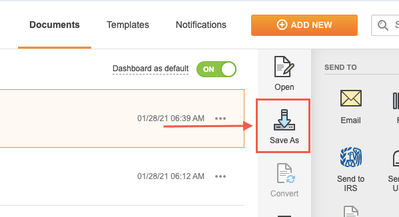 If you want someone to fill out a document, you can send it to them by email or using the LinkToFill function. The recipient will receive the file and will be able to electronically sign the form, even without having a pdfFiller account. Plus, in the Share Document menu, you can find specialized exporting tools like personalization (branding, email texts), automatic reminders, or even authorization via a phone number, social media account, or photo.
For those who need to submit tax reports, we've created the Send to IRS feature. Fill out your W-2, 1099-MISC, 1099-NEC, and 941 forms, delete unnecessary pages (cut PDF pages, if it's allowed), click the IRS button, and the Internal Revenue Service will get your documents. It's a very convenient feature, especially for situations when the deadline for submitting tax reports is closing in.
To get a hard copy of your cut PDF pages, use the Print feature. The procedure is similar to the usual printing process; this option triggers a pop-up window where you are able to choose the number of copies, printing options, and your preferred printing device. The good thing is this menu allows you to skip the downloading step and save time.
Finally, the last exporting method is helpful for people who need a hard copy to be sent to another city or state. With pdfFiller, there's no need for printing, buying an envelope, and sending a letter from the post office. Now you can simply select the USPS button, and the United States Postal Service will deliver the document for you.
Allows users to cut PDF pages securely
Documents may include data that you would not like to share with anybody but a particular recipient. By accidentally spreading sensitive information, you can harm your reputation or seriously affect your business operations. With pdfFiller, you can forget about security concerns, and here's why:
Powerful encryption algorithms
Most likely, you trust your bank or healthcare institution when you utilize their services, and there's a good reason for that. pdfFiller uses the same SHA-256 encryption algorithm used in the medical and banking industries to keep your data safe, even if you simply need to split PDF pages online.
Trusted servers
We store your documents on Amazon's Simple Storage Service (S3) data centers to protect them from any potential losses.
Compliance with international security standards
Who cares about security policies when building a service that gives users the ability to split PDF pages? pdfFiller does. All your manipulations with documents are protected according to the most important US and European information security regulations: SOC 2 Type II, HIPAA, GDPR, and PCI DSS certificates. To obtain these certifications a service has to undergo rigorous tests and won't qualify if any sort of issues occur.
Detailed audit trails
You can access the history of all the actions taken in your documents starting from document generation to signing. This option stores the information about users who made any sort of manipulations to files, including their IP addresses, browser versions, OS details, and even geo-locations. Identifying a signer isn't a problem anymore.
Advanced two-step authentication
As mentioned before, you can request a signer to confirm their identity with a phone number, social media account, or photo.
Creates legally-binding eSignatures
As electronic signatures become of significant importance in everyday life, pdfFiller offers its remarkable capabilities to you as well. Upload a document to the service, select the Sign tool, and certify the sample in your preferred way: by drawing (with a mouse or a touchpad), typing (choosing a handwritten font for your name or initials), or uploading (drawing a signature on paper and scanning it or capturing with a camera). And just in case you happen to run into any sort of problems with your computer, you can also try other signing methods: scanning a QR code or sending text/email links to eSign documents on your mobile phone.
Additionally, with each signature, you'll receive a certificate that includes detailed signer information. Who signed a particular sample and when it was signed with all the identification data mentioned in the audit trail.

What if I won't use pdfFiller to split PDFs online?
Well, you can try other services. Nonetheless, if you continue with the traditional search for online tools and try to complete each task (edit, sign, or split PDF files) with the help of different platforms, you'll most likely run into multiple problems. Other platforms often reduce the quality of document files, export them in ZIP folders, only allow a limited number of tools to be used during one session, or require you to spend a fortune to get full access to all of its features. With pdfFiller, you'll never have to worry about such problems.
However, if you turn down the possibility of using Portable Document Format in general, it'll most likely affect your document management cycles and may even harm your business. What problems do you run into by turning away from the use of PDFs?
Document distortion
The most obvious benefit of any PDF is that it holds together all the objects within a document in their required places, including all the fonts and formulas. You can create a file in this format and spread it among dozens, hundreds, or even millions of recipients and the document will look exactly the same for everyone.
When you utilize DOCX, RTF, PPTX, or other easily editable file formats, there's a high risk of document distortion. As a result, images may move, text formatting might be lost, and fonts could be replaced. The amount of problems escalates rapidly when different parties use different software versions. Newer versions usually support the opening of older ones without any changes within the file view, but if you happen to use an outdated version of a specific software, you're most likely to encounter issues if you open a file generated with a newer version. Use PDF if you want your files to look the same across devices and operating systems.
Security issues
Files in Portable Document Format have the capability to be password protected. With password protection enabled, a user needs to have a key to view, edit, or cut PDFs. This important feature eliminates the possibility of an unauthorized person accessing sensitive information. Other common formats (except RAR) cannot be locked with passwords, which can result in unwanted information disclosure due to human error.
You won't be able to harness the benefits of eSignatures. Technically, you can insert a photo of your signature as a formality to any other type of document file format, but it won't make the marked document legally binding.
Word files can be protected only with digital signatures requiring specialized certificates developed by specialized companies. However, they aren't very popular because of their complexity.
Problems with compatibility
PDFs can be opened on any operating system with specialized programs installed by default or web browsers. The situation is different when it comes to text files.
Each operating system has its own specialized file format for creating and editing documents. Windows usually uses Microsoft Word, Excel, or PowerPoint, macOS uses Pages, Keynote, and Numbers, Linux uses Writer, Calc, and Impress. In most cases, they can't be used interchangeably, so there's a strong possibility that recipients will have to look for converters to get the ability to open your file; or won't even bother to try and thus the chances of you missing a new client or subscriber add up dramatically.
More complicated archiving
Unlike files in Portable Document Format, other formats can't be conveniently compressed for more efficient archiving. If you decide to store your documents in different file types, you lose the capability to make files smaller and optimize the use of your internal or cloud storage.
Lack of free viewing software
Open a PDF for viewing on almost any device without damaging the document's layout. Adobe developed a free software called Acrobat Reader for viewing PDF files, so you can download, install, and use it as many times as you need. On the contrary, Microsoft Word is only available after purchasing a license, and the only other alternative left is to use Google Documents, but it's not the most convenient solution, the same goes for Excel and PowerPoint.
All in all, here's what you need to know to split PDFs like a pro
We've already mentioned all the main aspects connected to document management that you should pay attention to while choosing a service:
Multi-functionality. Don't waste your time on single-functionality platforms when you have the ability to do everything you want in one tab.
Security. Eliminate the possibility of data loss. Use a service where you're able to manage your documents (even if you just want to split a PDF online) securely via an encrypted connection.
Convenience. Utilize a service with a user-friendly interface and maximum functionality.
However, there's still one helpful piece of advice left: consider using web services to split PDFs. Why? The answer is pretty simple.
Online PDF breakers do not require any sort of software and hardware to be installed on your computer, the only requirements are an up-to-date web browser and a stable internet connection. With no need to download and install additional tools on your hard drive, you can save more space on your device's internal memory or eliminate the need to purchase bigger internal or external drives. Additionally, you can access these web tools from practically any place around the globe and on almost any device. Feel free to sign, fill, or split PDF pages online at the office, home, or while commuting.
To sum up and close
We truly hope that you've found the information provided in this article useful. Even if initially you were just looking for a file splitter that allows you to split PDF into multiple files, now you possess the knowledge about pdFiller, a tool that gives you a head start compared to any complicated, pricy, or resource-demanding alternative on the market. There's no doubt in the fact that at some point, you'll have to work with files in Portable Document Format. Next time when you have to merge, rotate, edit or split PDF files, consider using pdfFiler – an easy and reliable, yet powerful solution that can make anyone a professional PDF editor. Try it and see for yourself!
Video Review on How to split a PDF
What our customers say about pdfFiller
See for yourself by reading reviews on the most popular resources:
Absolutely By Far the Greatest thing since the Wheel you guys rock i mean your program is the most simplest and helpful thing i have ever come across i mean literally your program by far goes beyond to help even the most non computer literate person like myself thank you so much!
What do you like best?
Very handy and always dependable. It's easy to save and edit documents.
What do you dislike?
The price seems high compared to other online services.
Recommendations to others considering the product:
Consider lowering the price.
What problems are you solving with the product? What benefits have you realized?
Filling out PDF trade show applications, tax forms, and other work-related documents.
Get a powerful PDF editor for your Mac or Windows PC
Install the desktop app to quickly edit PDFs, create fillable forms, and securely store your documents in the cloud.
Edit and manage PDFs from anywhere using your iOS or Android device
Install our mobile app and edit PDFs using an award-winning toolkit wherever you go.
Get a PDF editor in your Google Chrome browser
Install the pdfFiller extension for Google Chrome to fill out and edit PDFs straight from search results.
Pdf Editor Online: Try Risk Free