The Choice of Federal Goverment Professionals
Keeping track of your federal taxes has never been easier. Find all the necessary forms for reporting your finances to IRS, filing a case in federal court, or getting a voter registration and complete them immediately with PDFfiller's editing toolset.
Make it simple to send, manage, and track all of your
documents with PDFfiller.
Learn Why More than 25,000 Federal Government Professionals Use PDFfiller for Paperless Document Transactions
Sign Documents Electronically
Sign, request, and obtain multiple signatures easily. Customize signature orders and track the recipients' signatures.
Find the Right Form
Find the most commonly used federal, state, or county-specific forms, including tax forms, DMW reports, financial disclosure templates, and job application forms.
Secure Your Files
Keep secure digital records of your private financial information, personal details, medical records and other sensitive data.
Stay Organized
Keep your document transactions organized and secure using a single online platform to manage your tax form copies, registration forms and applications.
Save Time
Save time & minimize errors in filing federal or state documents and getting official approvals.
Store Past Returns Online
Keep secure and accessible digital records of any and all types of documents.
PDFfiller Fulfills the Needs of Federal Officials
Better than the Competition
Our document management tools make completion, storage, and revision of governmental
forms faster and more affordable than ever.
| | | | | |
| --- | --- | --- | --- | --- |
| No Need to Download Software | | | | |
| Sign Online | | | | |
| Track Sent Document | | | | |
| Search Form Online | | | | |
| Edit PDF | | | | |
| Free Mobile App | | | | |
| Unlimited Cloud Storage | | | | |
| Annotate Content | | | | |
| Fax Online | | | | |
| Embedded Signing | | | | |
| Document ID | | | | |
| Add Watermark, Page Numbering, Date | | | | |
| Erase in PDF | | | | |
| Rearrange Pages | | | | |
| Add image | | | | |
| Integrate to Salesforce, SharePoint, Google Docs, Office 365 | | | | |
| Create Fillable Fields | | | | |
| Fill Forms in Bulk | | | | |
| Host Fillable Form | | | | |
| Two-Factor Authentication | | | | |
| Enhanced Document Security | | | | |
Get Everything at a Fraction of the Cost
Tap into Our Free Resources to Learn How
PDFfiller Can Benefit Your Industry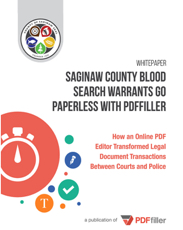 Legal Case Study
PDF, 214 kb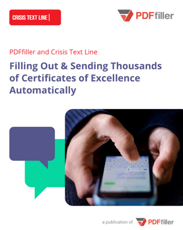 Filling Out & Sending Thousands of Certificates Automatically
PDF, 787 kb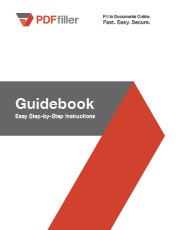 PDFfiller Guidebook
PDF, 7,94
Some Great Businesses That Use PDFfiller