Integrate pdfFiller with Confluence
The best document editing solution for Confluence
The pdfFiller Confluence integration is a complete online editor for typing, editing, erasing, blacking out and annotating text as well as signing documents. Work with PDF files in your Confluence account and share documents with your partners making them available to anyone on any mobile device.
Dynamic
Transform PDF documents into fillable forms by adding smart fillable fields. Get the document filled out, signed and save all the data as a PDF file straight in your Confluence account.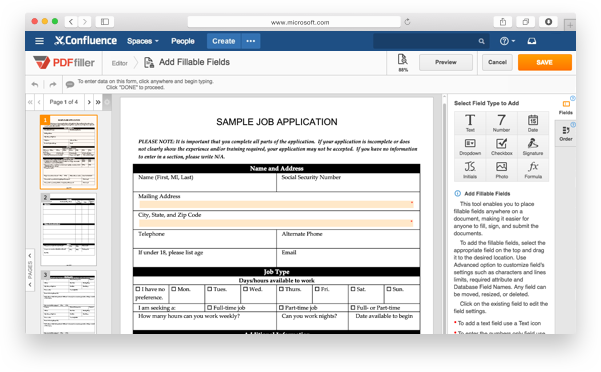 Powerful
Adjust content in a PDF document using powerful editing tools. Type anywhere on a document, sign it, add checkmarks, the date or protect confidential information with the blackout tool. Save all the changes in a PDF file straight from your Confluence account.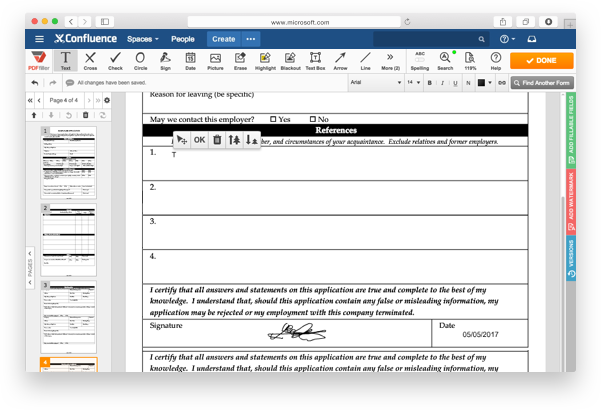 Application Features
PDF Editor
Place sticky notes and text boxes
Form Builder
Turn any document into a smart fillable form
Use checkboxes, dropdown menus, date and signature fields, formulas and images
Define the filling order and add instructional videos to guide clients through the document
eSign & Workflows
Create legally binding eSignatures with just a click
Sign documents when on-the-go by drawing your signature with your touchpad
Add legally binding signatures by capturing a handwritten signature with a webcam
Tell us about your business
Fill out the form on the right so that our sales representative can contact you and provide the best solution for your business needs.