Integrate SignNow with pdfFiller
Send PDFs for signing with the SignNow e-signature solution
Create, edit and annotate PDF documents in your pdfFiller account and send them to be signed using SignNow. Customize your signing invite, password protect a document and quickly react to any changes with instant notifications.
Speed up the approval process in a click
Create and edit PDF contracts and agreements and send them for signing with the SignNow button.
Log in to your free SignNow account
Single sign on authorization automatically gives you an account in SignNow. All documents you sent for signing from pdfFiller with SignNow will be saved in your pdfFiller and SignNow account.
Get documents signed in seconds
Add multiple signers to your document and set the signing order. Drag and drop fillable fields on to a document and designate who should sign a specific field.
Application features
Blackout sensitive information
Place sticky notes and watermarks
Turn documents stored in Box into fillable forms
Add checkboxes, dropdown menus, date and signature fields
Define the filling order and mark the fields as required
eSign documents and collect signatures
Track a workflow with instant notifications
Set the order of who can sign a document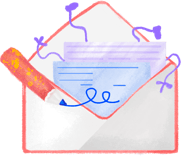 Tell us about your business
Fill out the form on the right so that our sales representative can contact you and provide the best solution for your business needs.