Supercharge your pdfFiller experience with the
airSlate Business Cloud.

Create, configure, and automate dynamic no-code web forms

Create powerful, mobile-ready web forms with the easy-to-use drag and drop form designer. Design and create web forms with simple fields, advanced fields, formula fields, e-signatures, and conditional logic. Pre-fill or extract data, assign roles to fields, or automate routing to create workflows. Integrate forms with one or multiple systems of record such as a CRM, G Suite or Microsoft Office using no-code airSlate Bots.
Create, deliver, negotiate, and sign contracts faster with airSlate
Get started with airSlate's all-in-one multi-cloud document generation, contract negotiation and robotic process automation today.

Mobile-first no-code web forms
Build mobile-friendly web forms by assembling signature and text fields, dropdowns, formula fields, tables, radio buttons and checkbox groups. No coding required.

Conditional and assignable fields
Assign fields to recipients and create conditional fields. Set up multi-signature workflows and get forms e-signed.

Integrated robotic process automation
Set up no-code airSlate Integration Bots to pre-populate fields from a single or multiple systems of record such as CRMs, spreadsheets and ERP systems. Configure no-code airSlate automation Bots to notify, route, assign or remind.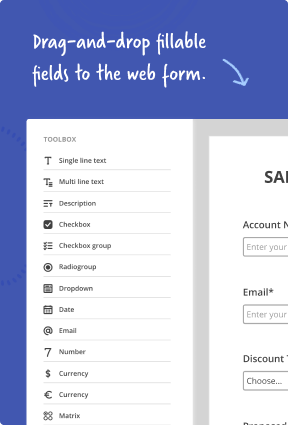 Author contracts from both DOCX and PDF templates
Transform any DOCX or PDF document into a template by adding a custom combination of tags and fillable fields. Integrate templates with multiple systems of record or cloud apps. Generate pre-populated documents from multiple data sources.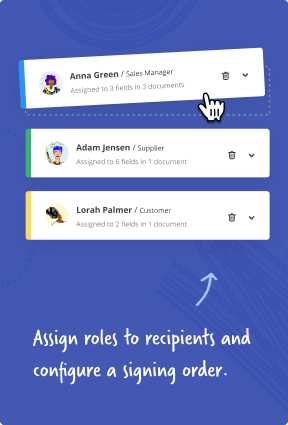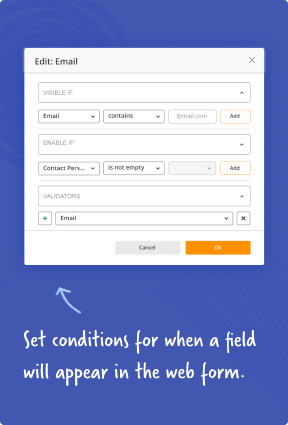 Conditional and assignable fields
Assign fields to recipients and create conditional fields. Set up multi-signature workflows and get forms e-signed.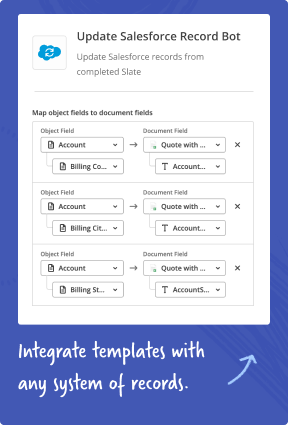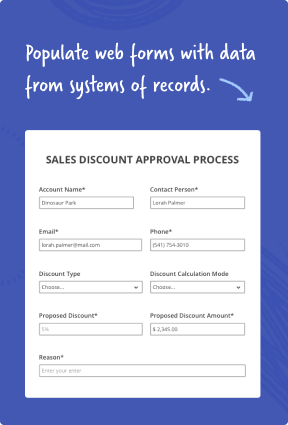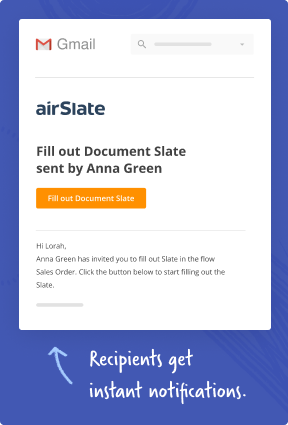 Connect contract negotiation, invoicing, payments, reminders and renewals into a single workflow
Automate generating and sending out invoices. Clients can securely enter and submit payment details when completing the documents you've sent them. Send signed quotes to procurement, integrate payment information with QuickBooks and update your CRM records automatically.
Powerful web form solution
Learn why airSlate web forms solution beats the competition.
UiPath
Automation Anywhere
BluePrism
Microsoft Power Automate
Single Line Text
Multi Line Text
Number
Currency
Date
Date & Time
Email
Dropdown
Checkbox (Multiselect)
Radio button (Yes/No)
Formula
Table
Matrix
Group / Panel
Divider
Hyperlink
Signature
Form title
Form description
Undo / Redo
Drag & Drop elements
Form Preview
Field size
Field conditions (rules)
airSlate products that are natively integrated with web forms
Combine web forms with other solutions in a single, holistic, no-code platform. No API required.
Built-in e-signing
Use airSlate's enterprise-grade e-signature to set up any multi-signature role-based workflow.
Robotic process automation
Configure no-code airSlate Bots in minutes to automate any simple or complex repetitive task.
Document process automation
Extract data, batch process millions of documents, and integrate it all into any system of record.
Document generation
Create documents pre-filled from various data sources using the most powerful document generation engine.
Contract negotiation
Pre-fill, generate from templates, comment, redline, approve and e-sign contracts in a single no-code business automation platform.
Workflow automation
Easily deploy, automate and share even the most complex workflows.
Аdvanced analytics
Create graphs and reports based on any field in a document, data value, or activity in your workspace.
Accept payments
Connect to a payment gateway and accept credit cards, ACH or other forms of payment.
Contract management
Generate quotes, contracts, and invoices while receiving payments and tracking contract execution.
Want to learn more about building web forms with airSlate?