Close real estate deals faster with an all-in-one PDF editor, form builder, and eSignature solution
Handle more customer transactions every day by boosting contract negotiations and reducing document cycles. Send fillable forms and collect signed documents in minutes instead of days.
Learn why real estate professionals choose pdfFiller for paperless document management
Make PDF editing and management
hassle-free with pdfFiller
Check out pdfFiller's most popular forms for real estate agents & brokers
Find out why real estate professionals prefer pdfFiller over the competition
Get more features wrapped up in one comprehensive solution. Edit PDFs, create and fill out forms, share documents, and send them for eSignature.
This chart represents a partial list of features available in pdfFiller, DocuSign, Adobe Acrobat and PandaDoc
Create documents and forms
Fill in multiple forms at once
Postfill and bulk extract
Premium support, dedicated assistant
Everything you need to digitize document workflows at the market's lowest price
pdfFiller includes tools and features normally sold separately and at a much higher price. With the Basic annual plan, you pay just $96 for the same set of features and save big.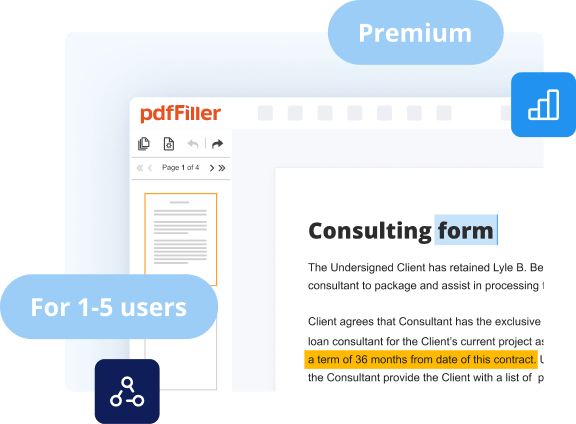 You have a small team but want to make its workflows digital?
We've created a Premium subscription specifically for teams of 1-5 users. Premium is packed with everything pdfFiller has to offer, plus full-featured eSignatures. Check it out and start your free trial on the spot.
Browse Premium
Tap into our free resources to learn how pdfFiller can benefit your industry
Join a network of real estate businesses that are saving time and reducing costs with pdfFIller