pdfFiller is not affiliated with IRS
IRS 1099-MISC 2007 free printable template
Show details
Hide details
The products you should use to complete Form 1099-MISC are the 2007 General Instructions for Forms 1099 1098 5498 and W-2G and the 2007 the general instructions gives a quick guide to which form must be filed to report a particular payment. TLS have you transmitted all R text files for this cycle update Page 1 of 10 of Form 1099-MISC PAGE 2 IS BLANK Date VOID Revised proofs requested Rents OMB No. 1545-0115 Form Other income RECIPIENT S identification number Fishing boat proceeds Street...
Get, Create, Make and Sign
Get Form

eSign

Fax

Email

Add Annotation

Share
How to fill out 2007 form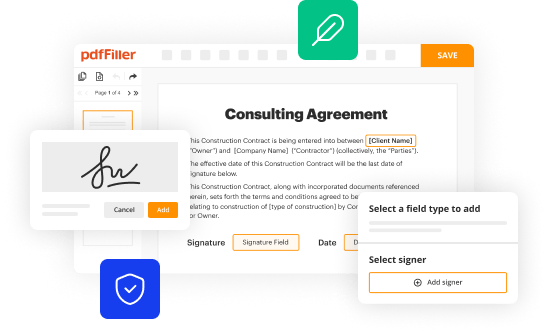 How to fill out 2007 form?
01
The first step in filling out the 2007 form is to gather all the necessary information and documents. This may include your personal details, income statements, and any other required information.
02
Once you have all the required information, carefully read the instructions provided with the 2007 form. This will help you understand the specific requirements and sections of the form.
03
Start filling out the form by entering your personal details accurately. This may include your full name, address, Social Security number, and any other relevant information.
04
Proceed to the income section of the form and provide the requested information. This may include your wages, dividends, interest, and any other sources of income. Be sure to enter the amounts accurately and double-check for any mistakes.
05
Continue filling out the remaining sections of the form, such as deductions and credits. This may involve deducting expenses or claiming eligible credits that you qualify for.
06
Review the completed form carefully to ensure all the information is accurate and complete. Make any necessary corrections or additions if needed.
07
Sign and date the form in the specified section. If you're filing jointly, make sure both spouses sign the form.
08
Retain a copy of the filled-out form for your records and submit the original form to the appropriate tax authority as per their instructions.
Who needs 2007 form?
01
Individuals who were required to file their taxes for the tax year 2007 need the 2007 form. This may include U.S. citizens, resident aliens, and certain non-resident aliens.
02
If you earned income, received interest or dividends, or had any other sources of taxable income in the year 2007, you will likely need to fill out the 2007 form.
03
Additionally, anyone who is eligible for any deductions, credits, or exemptions for the tax year 2007 would require the 2007 form to claim those benefits.
04
It's important to note that tax forms are typically specific to a particular tax year, and the 2007 form is specifically for filing taxes for the year 2007.
This is how it works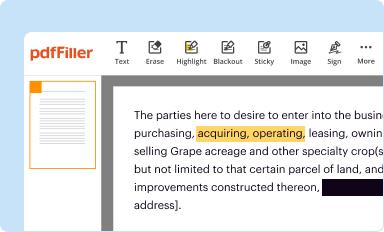 Edit your 2007 form form online
Type text, complete fillable fields, insert images, highlight or blackout data for discretion, add comments, and more.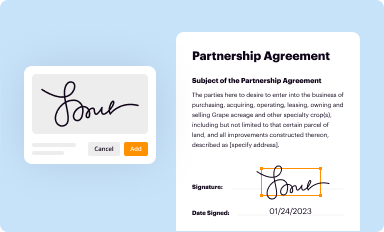 Add your legally-binding signature
Draw or type your signature, upload a signature image, or capture it with your digital camera.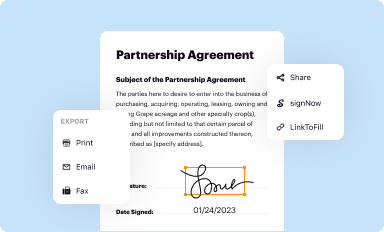 Share your form instantly
Email, fax, or share your 2007 form form via URL. You can also download, print, or export forms to your preferred cloud storage service.
Editing 2007 form online
To use the professional PDF editor, follow these steps:
1
Log in to account. Start Free Trial and sign up a profile if you don't have one yet.
2
Upload a document. Select Add New on your Dashboard and transfer a file into the system in one of the following ways: by uploading it from your device or importing from the cloud, web, or internal mail. Then, click Start editing.
3
Edit 2007 form. Rearrange and rotate pages, add and edit text, and use additional tools. To save changes and return to your Dashboard, click Done. The Documents tab allows you to merge, divide, lock, or unlock files.
4
Save your file. Select it from your list of records. Then, move your cursor to the right toolbar and choose one of the exporting options. You can save it in multiple formats, download it as a PDF, send it by email, or store it in the cloud, among other things.
With pdfFiller, it's always easy to deal with documents. Try it right now
Not the form you were looking for?
What is the Difference Between the 1099-MISC and Other 1099 Form Types?
The Form 1099 series is a powerful tool for the IRS to make the taxpayer complete an informational return.
The form comes in different variants connected with the earnings or payment types you have made during the tax year. For better identification of payment classification, each form has its letter abbreviation.
In most cases, you are obliged to provide details about all taxable income that is not connected with salary or earnings received from any source instead of employment. The 1099-MISC form is necessary to provide miscellaneous earning details with all funds you pay for work made by an organization or person, not hired by a company.
Remember, it's essential to carefully insert an income and payment in the samples you provide for them to coincide in all sources. Otherwise, the IRS will have questions, request additional information, and possibly add fines.
General Facts You Should Know About the 1099-MISC Tax Form
This sample is one of the most frequently used tax reports – therefore, you need to get familiar with its general details better.
So let's answer some of the most frequent questions people ask.
What is the 1099-MISC Form?
The IRS Form 1099-MISC is a report you send to the party that provides paid services (independent contractor). The document includes details about any money spent on your business course, not personal expenses. In 2021 the title of Form 1099-MISC had changed from Miscellaneous Income to Miscellaneous Information.
Who Must File IRS Form 1099-MISC in 2008?
Form 1099-MISC reports any payments made to someone regarding your trade or business. The taxpayer should file Form 1099-MISC for each person they have paid at least $10 in royalties or broker payments to instead of dividends or tax-exempt interest, and at least $600 during the year. An independent contractor needs this form to report income.
What Payments and Purchases are Reported?
The 1099-MISC tax form may cover a wide range of expenses, including materials, rents, healthcare, and healthcare spending related to a plan, award, prize, etc.
Taxpayers also include the following spending:
Gross proceeds and fees paid to an attorney. This includes funds issued to organizations that provide legal services.
Fishing proceeds paid with cash. Since fishing boat proceeds are meant to be separate earnings (other than employment), they're reported in a specific field in the sample 1099-MISC form.
Any dividends and tax-free spending.
Payments to the federal executive department made for vendors.
Various income types not covered by some other 1099 series forms.
Are there any Exceptions in the IRS form 1099-MISC?
Not all miscellaneous spending is included in the sample 1099-MISC form.
The exclusions are:
Any funds spent to pay for the services made by an LLC or a corporation.
Storage, merchandise, or telephone expenses.
Payments for the services of real estate agents or property managers.
Money withdraws to tax-exempt companies and trusts.
Credit card expenses or third-party transaction fees.
Canceled debt that is technically treated as an income.
Scholarships or grants.
How Many Copies of the Printable 1099-MISC Form Should I Complete?
Company representatives or accountants should complete five document copies:
The first form goes to the IRS. The sample can easily be filled out and sent digitally. Those who need it on paper can print using the particular blank option.
The second copy is sent to the Tax Department of State.
Two more copies are to be sent to the independent contractor. One of them is needed just as a reference, and the second one goes with the Tax Return D, which the recipient issues.
The last template remains in the company's office for the sake of keeping track of all expenses and taxes you paid.
When are 1099-MISC forms due to the IRS in 2008?
The 1099-MISC tax form is typically due to the IRS on February 28, 2008 for paper filers and on March 31, 2008 for electronic filers.
These deadlines are also applicable for filing to the independent contractor. It's essential to file before the deadlines to avoid financial or legal consequences.
The IRS allows taxpayers to complete their tax forms electronically for fast and safe processing. Filing electronically also makes sharing one completed copy between several recipients and institutions easier. This helps automate the tax management process and save your time.
What is the penalties amount for not issuing a 1099-MISC IRS Form?
Be attentive when filling out any form, and be sure to meet deadlines. If a business is late to file Form 1099-MISC, the penalty ranges from $50 to $270 per late form. There is a $556,500 maximum penalty fine per year. If a taxpayer willfully ignores a requirement to submit a valid statement, they are subject to a minimum penalty of $550 per form or 10% of the income shown on the form, with no maximum.
If you made a mistake, try correcting the 1099-MISC Tax Form template and sending it again before the deadline. If incorrect taxpayer details are sent to the fund's receiver, report a backup withholding.
If you lack a TIN or delay because of unforeseen circumstances beyond your control, you should notify the IRS about this problem to show an intention to pay what is owed.
What Components Does the 1099-MISC Form 2008 Contain?
Nowadays, most business and tax documents are filed digitally. Filing 1099-MISC forms electronically is straightforward with the fillable online templates. To prepare any supporting documents and complete your report in minutes, you need to know all the data it contains. Our fillable 1099-MISC Form has two parts representing the general contact, identification, tax data, and payment details.
Let's take a closer look at the form's fields.
Informational Boxes
The left side of the form includes general details about both the payer and recipient:
The first includes the payer's name and the full postal address, postal code or ZIP, and telephone number.
The next box is divided into two parts, including the ID numbers of both parties. This is convenient because the IRS identifiers are located together. Be attentive and use the proper formatting for this number, separating numerals with hyphens.
The contact and individual details about the payment receiver consist of three boxes separated by name, street, town, or ZIP.
Next is the cell with account numbers. There may be cases when you have several accounts and file several 1099-MISC Form samples to one receiver.
The Foreign Account Tax Compliance Act box is placed near the account number and is used if the company filing the form reports foreign tax paid.
The second TIN should not be included in the box if you received a notification from IRS that the TIN of the other/another party is provided incorrectly.
The bottom left of the form provides information about section 409a income and deferrals.
Tax and Payment Details
If you compare them with the left side, the right-side fields are smaller and have their numbers for easier identification.
The numerous payments and taxes are included in the 1099-MISC Form:
The first field contains rental fees issued for office space to a real estate agent or property manager. Car rentals or other rentals for transport are also included. Additionally, coin-operated machines data should be added in the form.
The second box includes royalty payments, increasing over ten dollars. They may be payments for using a trading name, patent, copyright, or trademark.
Under the third number, the other income box comprises any payment not applicable to any other box on the form. Here you may report merchandise won on game shows, fair market value, sweepstakes, Indian gaming profits, etc. Here you may also include payments made to foreign agricultural workers who receive from you more than $600 a year.
The fourth box is for including the sum of federal income tax withheld. It can be the backup withholding for a payment to an individual who failed to provide you with their TIN. You may use this field to report payments like withholding net revenues from licensed gaming activities.
Payments for catch sales, crew distributions, and expenses of more than $100 for the trip should be inserted in the fifth cell.
The sixth field is for costs not covered by a regular healthcare plan. This includes money paid for medical examinations, treatments, or medicine.
The seventh cell is for money paid to a non-employee who provided their services and are directly connected with your trade or business.
The substitute payments instead of interest or dividends you receive are reported in the eighth cell.
The following field is for the company's expenses of more than $5000. There is no need to provide the total sum you paid; check the box and include all the details in Schedule C.
Those with an agricultural business need this form to report payments to workers and provide crop insurance spending.
The eleventh and twelfth fields contain instructions that may not mention in the latest update of the official IRS explanation.
If you have any payment over the regular golden parachute expenses, include them in the thirteenth box.
Box fourteen is used to report payments a business has made to an attorney.
Finally, at the bottom of the right part, the taxes paid to the state are itemized together with the player's number and state income.
Pay attention to all textual and numeric details you add to the 1099-MISC Form online and check all information carefully before making any changes.
This way, you will avoid penalties that can appear due to any errors you make in the form. It's not necessary to fill out every single cell. Just select those that are applicable in your particular case.
The informational part is obligatory for filling out — provide payment details you need and omit other cells unrelated to your circumstances.
How to Fill Out 1099-MISC Form Online
Before completing the template, you must read the Form 1099-MISC instructions and prepare all supporting documents, payment checks, W-9, and information on the party that provided services during the tax year.
Once everything is collected, you can start filling out a 1099-MISC Form online using our quick step-by-step guide:
Click Get Form at the top of the page to open the fillable 1099-MISC Form in the editor.
Fill out the required fillable fields with our simple editing tools.
Add text, numbers, and checkmarks following the navigation tips provided.
Click Done when finished to save the completed document.
Use the 'Send to IRS' option to submit the online report directly to the IRS.
Note: We'll keep you updated via email when your report has been submitted and approved.
That's how easy it is to prepare your tax returns online. Finally, you can download the 1099-MISC Form in PDF format or email it directly to the recipient.
Filling out a 1099-MISC Form online is convenient and helps avoid any handwritten mistakes. There is no need to print and fill out the paper copy and start over if you make a handwritten error. With our web templates, simply go back to your template at any time and edit it in just a few clicks.
Additionally, you can choose from 40 million fillable documents and forms in the pdfFiller online library or upload the template downloaded from the official IRS website.
Form 1099 misc or miscellaneous income is an IRS form that independent contractors and self-employed individuals used to report payments and miscellaneous income such as non-employee compensation rents prizes awards healthcare payments and so on if you fill out form 1099 misc you also need to complete and send a copy of form 1096 to the IRS you can either download your copy from the IRS website or get the current revision of form 1099-misc that you can edit sign and submit electronically at pdffiller.com note that the IRS overhauled form 1099 misc in 2020 and introduced a new form called 1099 NEC non-employee compensation starting in the 2020 tax year form 1099 misc has several parts copy an of form 1099 misc in red is intended for IRS use only the black parts of the form can be completed and sent to other recipients copy one goes to the recipient's state tax department copy b is retained by the recipient copy two goes with the recipient's state tax return copy c stays with the payer let's proceed with completing the form start by filling out your name address and identification number as well as the recipient's name address and social security number the 1099-misc form has a series of boxes in which the payer will include whichever type of payment was made this may include rents in box 1 royalties in box 2 medical health care payments in box 6. Other boxes may be filled out including box 4 federal income tax withheld and box 15 state tax withheld once the necessary fields are completed and checked off save the form to your device or securely share it with your recipient via email fax USPS or SMS good luck and don't forget to submit your form 1099-misc before the due date established by the IRS.
FAQ
What is form?

A form is a structured document used to collect, organize, and store information. It typically consists of blank spaces or fields that need to be filled in by the user, along with labels or instructions to guide the user on what information to provide. Forms can be physical documents printed on paper or digital forms created and filled out electronically on a computer or mobile device. They are commonly used in various settings such as surveys, applications, registrations, feedback gathering, and more.

How to fill out form?

To fill out a form, follow these general steps: 1. Review the form: Carefully read through the entire form first to understand what information is required and if any specific instructions are provided. 2. Gather necessary information: Collect all the relevant information such as name, address, contact details, social security number, or any specific details related to the form's purpose. 3. Start at the beginning: Begin filling out the form from the top, clearly and neatly. Use black or blue ink, unless specified otherwise. 4. Provide accurate information: Enter the required details accurately and use clear, legible handwriting. Double-check all information to ensure its correctness. 5. Follow instructions: If the form includes specific instructions, be sure to comply with them. For example, if it asks for initials in lowercase, follow suit. 6. Use additional space if required: If space provided in a section is insufficient, use additional sheets if allowed by the form. Clearly indicate which part or question the added information refers to. 7. Dates and signatures: Include the date whenever necessary, typically at the top or bottom of the form. Sign the form if required. Ensure to sign only where indicated, usually at the bottom. 8. Review before submission: Before submitting the form, carefully review all the provided information, ensuring accuracy and completeness. Correct any mistakes or omissions. 9. Make copies: If required, make copies of the filled form for your records or as instructed. 10. Submitting the form: Follow specific submission instructions provided by the form. This could be mailing it, handing it in personally, or submitting it online.

What is the purpose of form?

The purpose of a form is to collect and organize information in a structured manner. It allows individuals or organizations to gather specific details from users or respondents. Forms are commonly used in various contexts such as surveys, applications, registrations, feedback collection, data entry, and more. The primary objectives of a form include: 1. Data collection: Forms provide a method to collect information, responses, or data in an organized manner. This collected data can be used for analysis, decision-making, or further processing. 2. Standardization: Forms ensure consistency and standardization in the information collected. They typically include specific fields or questions, ensuring that all respondents provide relevant details in a consistent format. 3. Efficiency: Forms streamline the information gathering process, making it quicker and easier for users to provide the required information. This saves time and effort for both the respondents and the individuals or organizations collecting the data. 4. Structured organization: Forms help organize and categorize information in a structured manner. They often include sections, headings, or categories, making it easier to sort and analyze the collected data. 5. Communication and interaction: Forms facilitate communication and interaction between the person or organization collecting the information and the user or respondent. They provide a clear framework for individuals to provide the necessary details or responses. Overall, forms serve as a tool for information collection and organization, ensuring that the data obtained is reliable, standardized, and easily manageable.

When is the deadline to file form in 2023?

The deadline to file forms in 2023 can vary depending on the specific form you are referring to. It is important to note that different forms and tax obligations have different filing deadlines. For example, the deadline to file individual income tax returns (Form 1040) is typically April 15th of each year, but it can be extended to October 15th if you file for an extension. Other forms, such as business tax returns and certain informational forms, may have different deadlines. It is recommended to check the IRS website or consult a tax professional for specific deadlines related to your particular circumstances and forms.

What is the penalty for the late filing of form?

The penalty for the late filing of a form can vary depending on the specific form and the jurisdiction. Generally, penalties for late filing can include fines, interest on the amount owed, and potential additional penalties for recurring late filings. It is advisable to check the specific regulations and guidelines related to the form in question or consult a legal professional for accurate information and advice.

Who is required to file form?

It is not clear what form you are referring to. Can you please provide more information or specify the form you are asking about?

How do I execute 2007 form online?

With pdfFiller, you may easily complete and sign 2007 form online. It lets you modify original PDF material, highlight, blackout, erase, and write text anywhere on a page, legally eSign your document, and do a lot more. Create a free account to handle professional papers online.

How do I edit 2007 form straight from my smartphone?

The pdfFiller apps for iOS and Android smartphones are available in the Apple Store and Google Play Store. You may also get the program at https://edit-pdf-ios-android.pdffiller.com/. Open the web app, sign in, and start editing 2007 form.

How do I complete 2007 form on an iOS device?

Install the pdfFiller app on your iOS device to fill out papers. If you have a subscription to the service, create an account or log in to an existing one. After completing the registration process, upload your 2007 form. You may now use pdfFiller's advanced features, such as adding fillable fields and eSigning documents, and accessing them from any device, wherever you are.