Manage tax and finance forms online with an all-in-one PDF editing solution
Save time and avoid costly errors when filing tax forms and handling financial documentation. pdfFiller makes tedious paperwork fast and hassle-free.
Learn how to benefit from pdfFiller's paperless workflows for tax reporting and financial filing
Make tax and finance reporting
easy and stress-free
with pdfFiller
Check out some of pdfFiller's tax and finance forms
Find out how pdfFiller beats the competition
Get dozens of valuable features out of the box. Edit documents in PDF format, fill out tax forms online, share files with teammates, and send them to the IRS digitally.
This chart represents a partial list of features available in pdfFiller, DocuSign, Adobe Acrobat and PandaDoc
Create documents and forms
Fill in multiple forms at once
Postfill and bulk extract
Premium support, dedicated assistant
Digitize tax and finance paperwork at the market's lowest price
pdfFiller includes tools and features normally sold separately and at a much higher price. With the Basic annual plan, you pay just $96 for the same set of features and save big.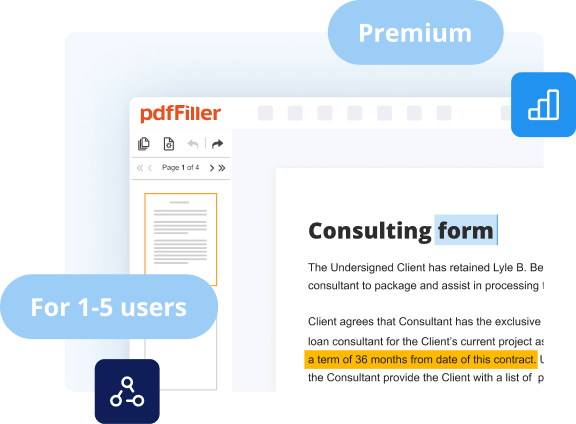 You have a small team but want to make its workflows digital?
We've created a Premium subscription specifically for teams of 1-5 users. Premium is packed with everything pdfFiller has to offer, plus full-featured eSignatures. Check it out and start your free trial on the spot.
Browse Premium
Tap into our free resources to learn how pdfFiller can benefit your industry
Join a worldwide network of businesses that are saving time and reducing costs with pdfFIller
Arrange Tax & Finance documents effectively with pdfFiller
Every company and individual faces obstacles of precise and prompt document administration. Even the most responsible individual finds this process tiresome and repetitive, and error-prone, the one that demands the right platform that covers most straightforward generation and approval requirements: creation, editing and changing, signature collection, and secure storing of complete files. pdfFiller provides end-to-end Tax & Finance document management software with an intuitive and user-friendly interface that lets you set up your routine tasks on the right track. Start working on any format with no previous training and make use of the powerful set of tools that transforms Tax & Finance document management within a single click.
pdfFiller gives you more than simply an online editor and document management application. It gives a perfect Tax & Finance document management solution that suits your distinct needs. With pdfFiller, you easily create fillable forms from scratch and turn them into reusable Templates, which substantially alleviates repeatable activities for your teammates or department. Nevertheless, because you can utilize it for a lot more than common document management tasks sets this aside from the rest. eSign and Notarize, integrate pdfFiller API to your website and monitor your documents' progress in any point of its approval.
Stick to these simple steps to use pdfFiller for Tax & Finance document management
01
Sign in or register for a free pdfFiller profile.
02
Pick a plan and try out a 30-day free trial version.
03
Upload your own document or select one from a large online library.
04
Open the document and begin modifying: put fillable fields, sign, highlight important information, and many more.
05
Save modifications and distribute your document to collect signatures.
06
Create a reusable document Template to speed up your day-to-day Tax & Finance workflows.
07
Securely store your documents in one of our integrated storages or your pdfFiller account.
08
Take full advantage of our CRM-like feature to deal with your business client contacts.
pdfFiller gives your next step to boosting your day-to-day Tax & Finance operations. Get rid of needless paper spend, endless looking for the appropriate forms, and burdensome third-party editing apps. Start your free trial right now and explore the benefits and features of pdfFiller.