Integrate PDFfiller with Salesforce
Instantly edit your PDF files in Salesforce with PDFfiller.
Edit, sign, save, and share your documents anytime, anywhere, and from any device
PDFfiller for Salesforce
The PDFfiller Salesforce application enables you to edit PDFs in Salesforce and send edited documents with signature requests. Save time by eliminating the need to download attachments, save and search for files, or upload documents to your Salesforce account
How It Works
Simply click the "Edit Documents" button in Opportunity, Lead or another section and a fillable version of the PDF will instantly open in the PDFfiller editor ready for you to add text, highlight, blackout, print, sign, and more.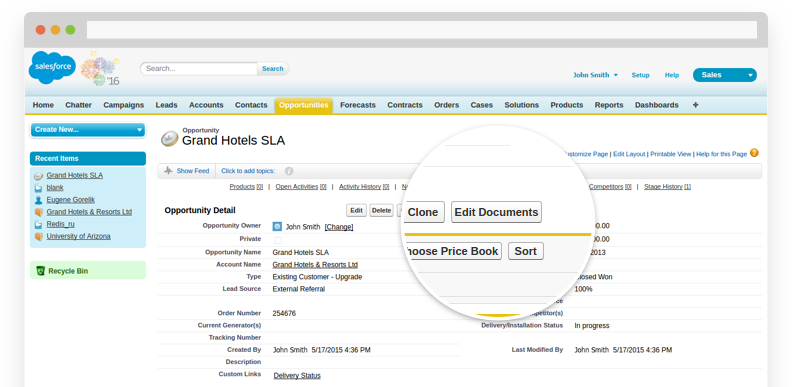 Application Features
Instantly edit PDF document in Salesforce.
Simple & intuitive editor with advanced features
Works with both Attachments and Salesforce Files from Chatter.
No need to download files to your local computer, edit and then re-upload them. Do it all in Salesforce.
Documents open directly in the PDFfiller editor and are fillable, printable, and sharable
Send documents for eSignatures right from Salesforce.
Track eSignature status and receive notifications.
Explore other great PDFfiller features to learn how to do more with your documents
Type on PDFs
Click anywhere to start typing on your PDF documents
Erase PDF text
Remove text from PDFs by simply using the erase tool
Sign Electronically
Type, Draw, Upload or Capture your original signature
Add Annotations
Add text boxes, sticky notes, pictures and graphics on your documents
Unlimited storage
Unlimited storage space allows you to keep all of your documents in one place
eFax documents
Fax your documents to any US number and receive your own fax number