Integrate pdfFiller with Slack
Complete document management solution and PDF editor for Slack
Collaborate on completing and signing documents with team members using the Slack messenger. Track your team's activity on shared documents with instant notifications in Slack. Keep up with document turnaround by accessing, filling out and signing documents from within Slack.
 Powerful
Edit PDF documents online, turn them into interactive fillable forms by adding smart fillable fields such as drop-down menus, formulas, checkboxes and images as well as date and signature fields. React to comments and track changes immediately while collaborating on documents. Receive your fillable forms filled out and signed directly in your Slack account.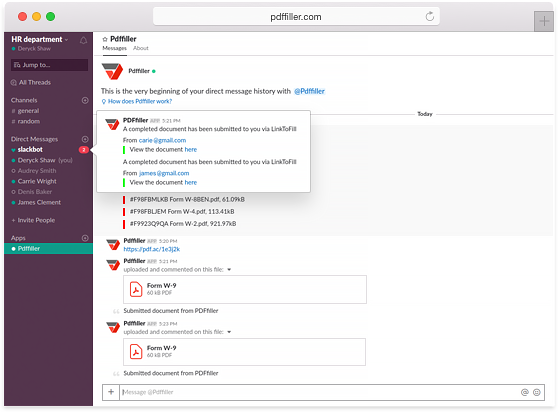 eSignatures and Workflows
Instantly generate a link to a fillable PDF and automatically share it in your Slack channel. Get documents signed by your team members on any internet connected device in minutes. Once a document is signed, it will be uploaded to the same Slack channel as it was shared in.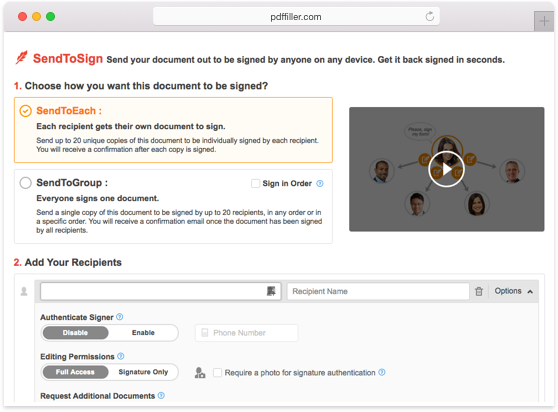 Application Features
PDF Editor
Place sticky notes and text boxes
Form Builder
Turn PDF documents into dynamic fillable forms available for completing from any device
Add checkboxes, drop-down menus, date and signature fields, formulas and images
Define the filling order and add instructional videos to guide clients through the document
eSign & Workflows
Collect signatures from your team members
Track workflow via instant notifications
Access and manage fillable forms from desktop and mobile devices
Tell us about your business
Fill out the form on the right so that our sales representative can contact you and provide the best solution for your business needs.