Foreign Earned Income
Templates included in the Foreign Earned Income forms package: 2555, 1040, 1040X and other forms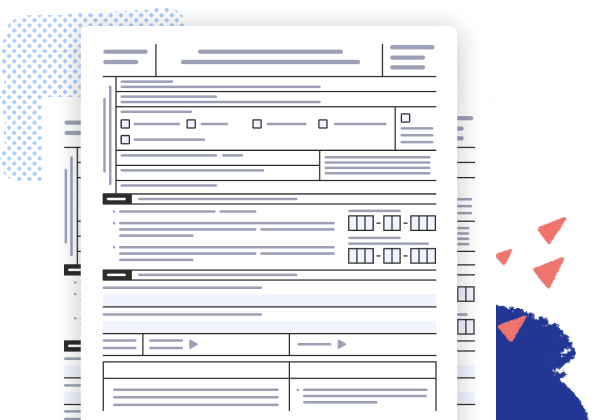 Purchase the Foreign Earned Income package to get these templates
Get your paperwork done faster by managing documents in groups. Get the Foreign Earned Income forms package to simplify the process of submitting these forms, working with them at the same time.
All you need to do is open the Foreign Earned Income forms package. Then, find your document and start editing its content. pdfFiller is not only an extended document library but also a convenient PDF editing tool, which allows to complete and customize the template as much as you need. It features a range of features you can use to customize your document's layout and make it look professional. Select a specific option from the panel at the top of the page to insert new fillable fields, add or delete text, add image, signature, etc.
The form packages provided by pdfFiller, such as the Foreign Earned Income forms package, allow to reduce the amount of time it takes to submit an application, complete a tax form, sign a contract, and much more. Special template packages like the one listed above will come in use when you need to file various documents for a particular occasion, fast. Don't go another day to find your submissions rejected due to improper formatting - get the Foreign Earned Income forms package, fill in the required information, put a digital signature and send, all within a single platform.
Forms description
More In Forms and Instructions If you qualify, you can use Form 2555 to figure your foreign earned income exclusion and your housing exclusion or deduction. You cannot exclude or deduct more than your foreign earned income for the year.
Form 1040-X is issued by the Internal Revenue Service (IRS) to taxpayers who need to amend their tax returns for any reason. A 1040-X form is necessary for an amended tax return that will change tax calculations, such as changes to filing status, number of dependents, or corrections to income credits or deductions.
Foreign Earned Income FAQs
Below is a list of the most common customer questions. If you can't find an answer to your question, please don't hesitate to reach out to us.
What is a 2555 form?
Form 2555. Form 2555 shows how you qualify for the bona fide residence test or physical presence test, how much of your foreign earned income is excluded, and how to figure the amount of your allowable foreign housing exclusion or deduction.
What is a 1040 tax form?
Form 1040 is what individual taxpayers use to file their taxes with the IRS. A filer also needs to report wages, salary, taxable interest, capital gains, pensions, Social Security benefits, and other types of income. Taxpayers may need to file supplemental tax 1040 forms depending on their situation.
What is 1040x used for?
When you use Form 1040X to claim additional deductions or credits or to correct an error that reduces the amount of tax you owe for that year, the Form 1040X serves as your formal claim for a refund.
What is the difference between Form 1040 and Form 1040 SR?
Form 1040-SR allows an individual to report income from wages, salaries, tips, and other income sources. The new form requires a senior to be 65 or older by the end of either 2019 or by the end of the tax filing year. Other senior-friendly features include larger font and spaces to fill in information.
What our customers say about pdfFiller
See for yourself by reading reviews on the most popular&nbspresources:
So far I like it. I don't like that it saves it multiple times and when I try to get rid of the older versions it erases all. I am not sure if I am doing it wrong. Overall, I like the features. I'd like to see the rotating feature added. For instance, when you erase and add a new text, and thd pdf page is crooked, you can cut and rotate the piece to straiten it.
Excellent product Excellent product works very well would recommend to others