The Choice of Judicial Professionals
Our document management platform is designed to organize the overwhelming document workflow and keep track of the forms you sign and file. Use PDFfiller to submit petitions and motions, apply for waivers and request transcripts in court.
Make it simple to send, manage, and track all of your
documents with PDFfiller.
Learn Why More than 30,000 Judicial Professionals Use PDFfiller for Paperless Document Transactions
Find the Right Form
Find the necessary civil, criminal, or attorney court forms from our online database of 25 million forms.
Sign Documents Efficiently
Request and obtain multiple legally-binding digital signatures. Customize signing order, track signatures, and create signature certificates.
Save Time
Save time filling out and annotating court forms with our comprehensive online editor.
Protect Sensitive Data
Keep legal data secure with features like two-step authentication login, an encrypted folder for password-protecting your documents, and an audit trail to monitor account activity.
Get Mobile
Cross-platform functionality and mobile accessibility make it simple to complete forms and capture signatures from anywhere on any device.
Stay Organized
Keep your document transactions organized and secure using a single online platform to manage the documentation of your court.
PDFfiller Fulfills the Needs of Judicial Professionals
Better than the Competition
Our document management tools make completion, storage, and revision of legal forms
faster and more affordable than ever.
| | | | | |
| --- | --- | --- | --- | --- |
| No Need to Download Software | | | | |
| Sign Online | | | | |
| Track Sent Document | | | | |
| Search Form Online | | | | |
| Edit PDF | | | | |
| Free Mobile App | | | | |
| Unlimited Cloud Storage | | | | |
| Annotate Content | | | | |
| Fax Online | | | | |
| Embedded Signing | | | | |
| Document ID | | | | |
| Add Watermark, Page Numbering, Date | | | | |
| Erase in PDF | | | | |
| Rearrange Pages | | | | |
| Add image | | | | |
| Integrate to Salesforce, SharePoint, Google Docs, Office 365 | | | | |
| Create Fillable Fields | | | | |
| Fill Forms in Bulk | | | | |
| Host Fillable Form | | | | |
| Two-Factor Authentication | | | | |
| Enhanced Document Security | | | | |
Get Everything at a Fraction of the Cost
Tap into Our Free Resources to Learn How
PDFfiller Can Benefit Your Industry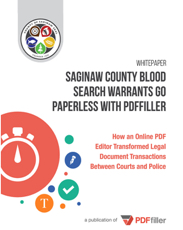 Legal Case Study
PDF, 214 kb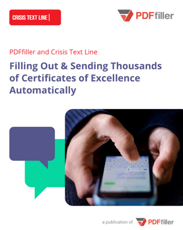 Filling Out & Sending Thousands of Certificates Automatically
PDF, 787 kb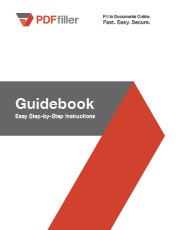 PDFfiller Guidebook
PDF, 7,94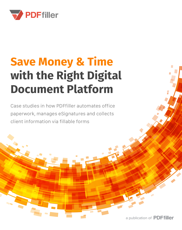 Save Money and Time with the Right Digital Document Platform
PDF, 417 Kb
Some Great Businesses That Use PDFfiller