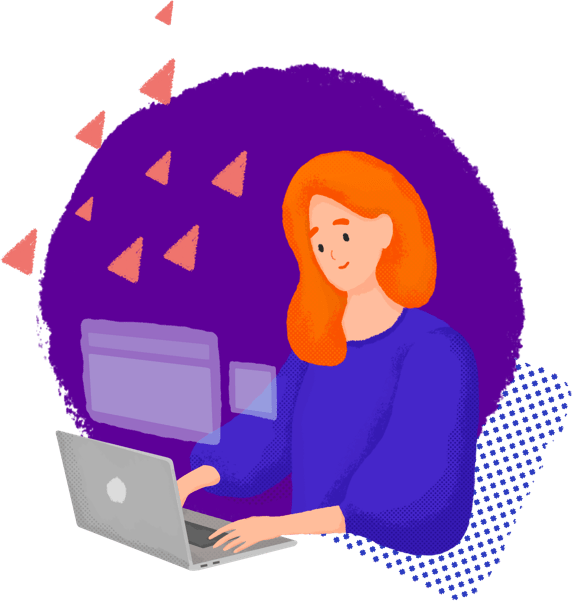 Get the most out of pdfFiller
Make your window larger or open pdfFiller on desktop to enjoy all the awesome features in detail.
Host PDFs Online Using LinkToFill
Instructions and Help about PDF Host Online
LinkToFill is a powerful tool that allows you to make interactive fillable documents available to anyone to fill out from any device and submit them back to you. Do you need to share a document with your customers, partners or colleagues? Do you want to reach a wider audience? With LinkToFill, you can share a document via a link embedded in your website, a URL or a QR code. You can start sharing a document directly from pdfFiller's editor. While the document is still open, click Done and select LinkToFill from the drop-down menu.

First, customize your link's appearance including its text, style (text, a small or a large button) and colors.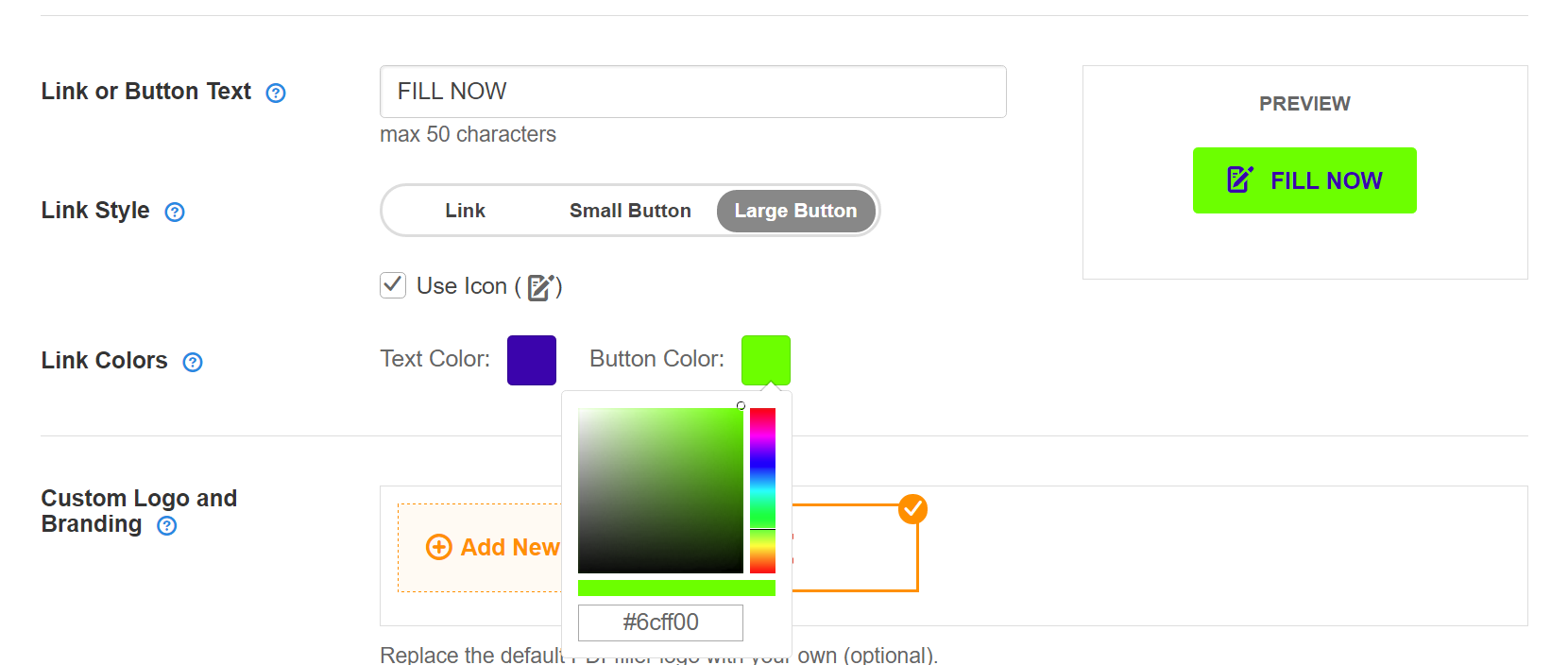 Upload your logo for the document. Click the Add New Logo button and follow your owser's prompts to upload an image from your computer. The image must be in JPEG, GIF, or PNG format; its size cannot exceed 5 MB.

Whoever fills in the document will see your logo in the top left corner of the page. If you choose not to use this option, pdfFiller's logo will appear by default.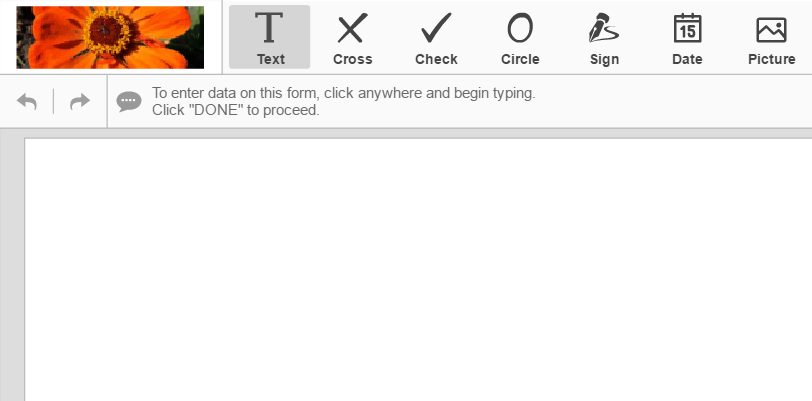 Author's Info. Add the name, company and job title of the document's author. Welcome Agreement. Activate this option if you want to request the recipient's consent to the terms and conditions of the use of electronic records and signatures. Message. Write a message such as a request or instructions. Video URL. Add an instructional, marketing or welcome video to the document by inserting a link to the video that you want to attach. Note that the video will be published on YouTube. Whoever opens the document will be able to watch the video.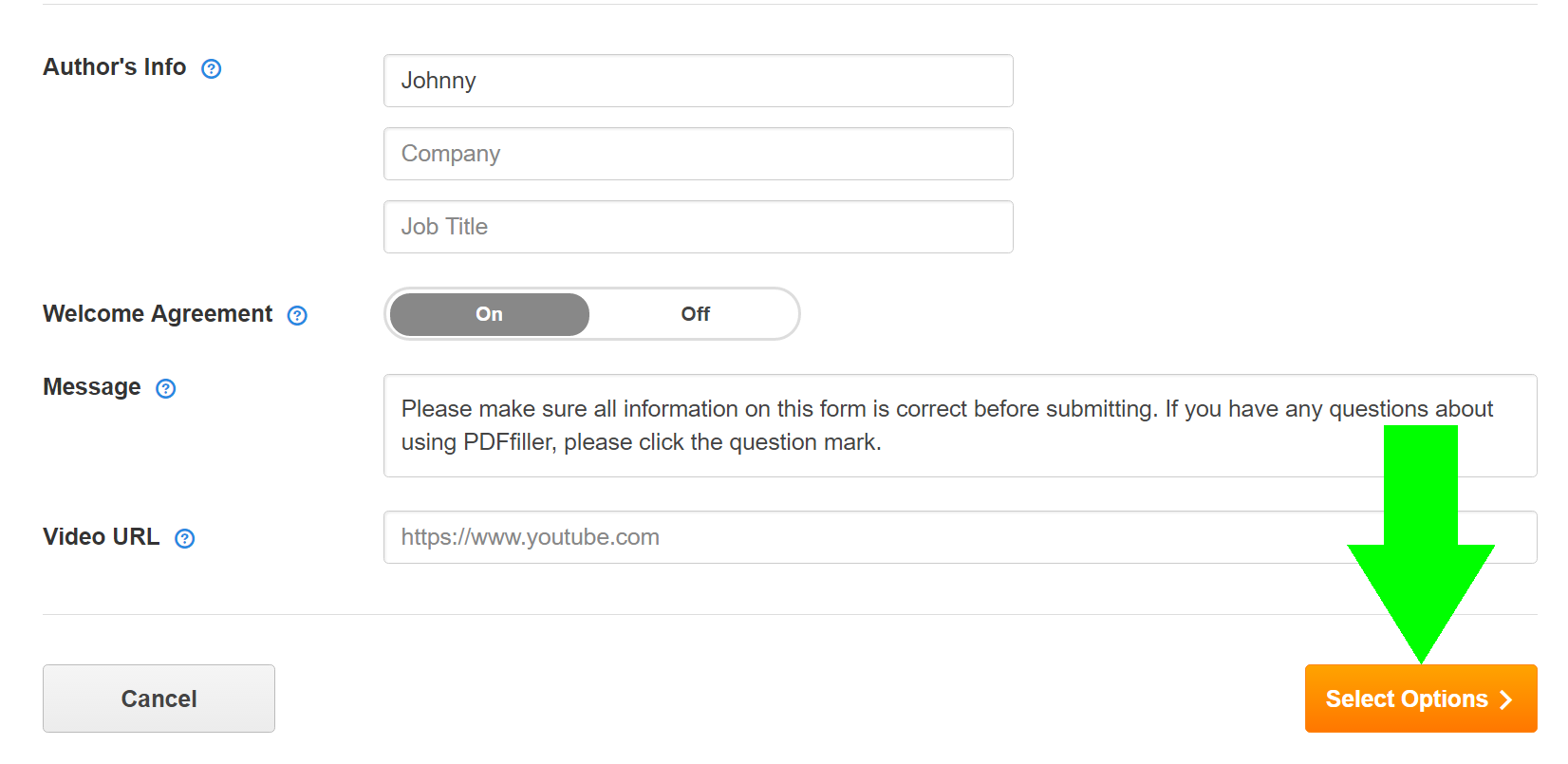 When you've finished customizing the link and the document, press the Select Options button in the bottom right corner; this will ing you to the Select Options tab that gives you the following options.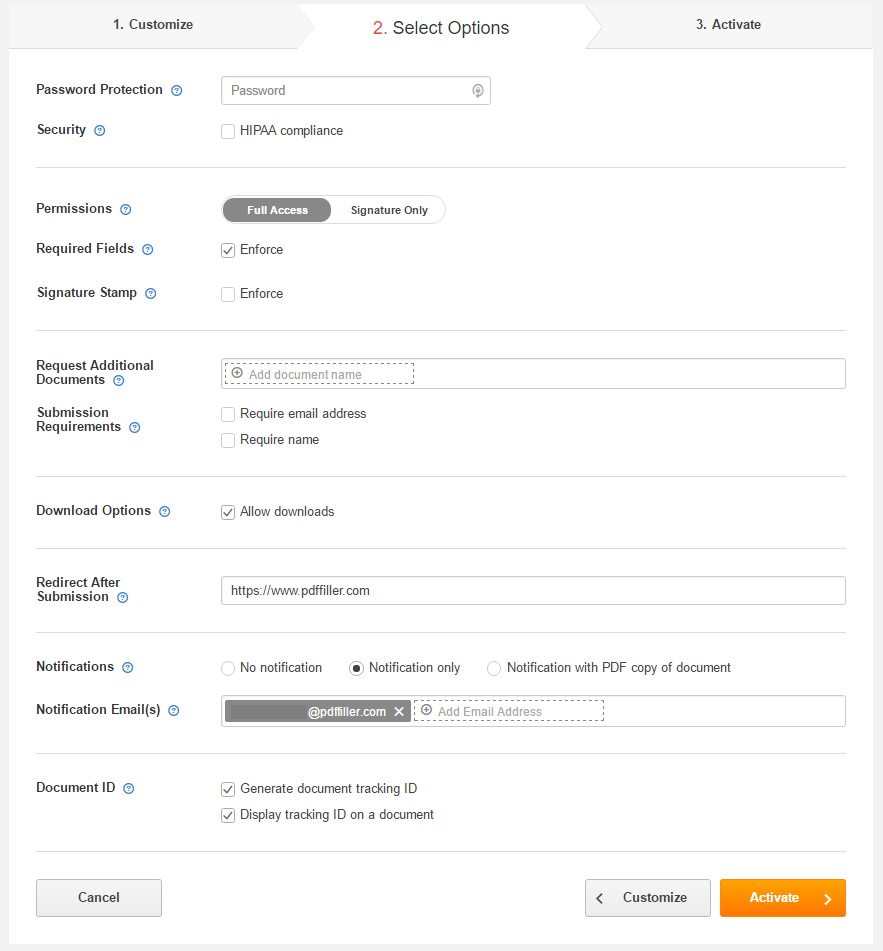 After you've selected all the relevant options, click Activate at the bottom of the page. You can change the document's status to Active or Inactive. Once it is active, you will see the HTML code, URL address and QR code in the respective fields. To create a hyperlink on your website, copy and paste the HTML code to your website's HTML. Whoever clicks the link will be taken directly to your document in the pdfFiller editor, where they can easily fill, sign and submit the document. The URL can be inserted in the address bar of any web owser. You can also add a QR code to your printed materials. Smartphone users will be able to scan the code with their cameras to access the document on their devices. Additionly, you will be able share the document through social networks such as Facebook, Twitter or Google+.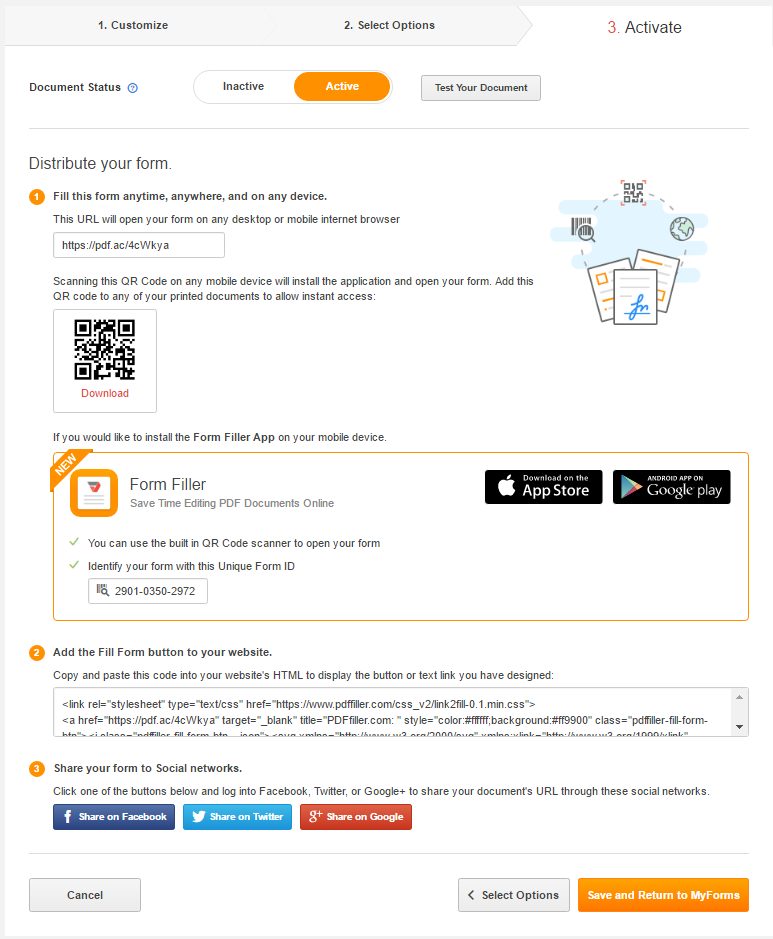 To learn more about LinkToFill, watch the following video: When you use our powerful LinkToFill tool, an essentially unlimited number of people will be able to fill and submit your documents, saving you a lot of time. If you like being able to share your documents through LinkToFill, you might be interested in a range of other great features that pdfFiller offers. With pdfFiller, you can also email, SMS or fax your documents.
Check out these
tutorials
to learn more about the other great features pdfFiller offers.
For pdfFiller's FAQs
Below is a list of the most common customer questions. If you can't find an answer to your question, please don't hesitate to reach out to us.
Video: Tutorial - Fill, Edit and Sign Your PDF Document Online Using pdfFiller
Video: How to Creating Fillable Forms Online Using LinkToFill
Video: How to Merge PDF Documents Using pdfFiller
Video: How to Rearrange, Rotate and Delete Pages in the pdfFiller Online Editor
What is pdfFiller?
pdfFiller is a web-based PDF editor. With pdfFiller, you can search for, edit, store and export PDF documents online without downloading and installing any software. pdfFiller also allows you to access and modify your PDF documents from any device anytime.
What browsers does pdfFiller.com support?
pdfFiller.com supports Internet Exporter (IE), Google Chrome, and Mozilla Firefox.
Do I need to download or install any software?
No downloads needed! pdfFiller.com is web-based application that does not need any additional software. pdfFiller.com supports any browser.
What is LinkToFill?
LinkToFill allows you to make a fillable version of a document available to anyone, anytime, anywhere, on any device.
How does LinkToFill work?
Select a document in MyForms, then select LinkToFill on the right. Adjust your LinkToFill settings as desired, activate your link, and post the link or code to your document. Anyone who accesses the document can fill and submit the document to you, and it will be accessible via your LinkToFill folder in MyForms.
What is the difference between the HTML code, QR code, and URL?
The HTML code can be placed on your website to create a button or text link to the document. The URL is a direct link to the document and is best used in the body text of a website, an email, or an SMS. The QR code must be scanned by a mobile device with a camera, and is best suited for use on printed materials such as business cards.
Can LinkToFill be used on a mobile device?
Yes! While you can't create a LinkToFill document on a mobile device, anyone with the link to your document can fill and submit it to you anytime, anywhere, from any device!
Does LinkToFill cost anything?
Creating and hosting a document with LinkToFill requires a pdfFiller Business plan, but anyone an fill and submit your LinkToFill documents absolutely free!
Does LinkToFill require a pdfFiller account?
Creating and hosting a document with LinkToFill requires a pdfFiller Business plan, but no account is required for someone to fill and submit a document.
How am I notified when I receive a document via LinkToFill?
You have the option to enable email notifications for every LinkToFill document, and we'll also send you notifications in MyForms whenever someone submits a document to you via LinkToFill.
Where can I find filled and submitted documents?
Documents submitted to you via LinkToFill can be found by navigating to MyForms > Sent [and History] > Link to fill, selecting a document from the list, then clicking Filled Forms on the right.
What happens if I deactivate a LinkToFill document?
Inactive documents cannot be filled or submitted, and any previously posted links or codes will direct to a page noting that the document is currently unavailable. In addition, you will not be able to access filled copies of inactive documents through the LinkToFill folder in MyForms without first reactivating the link.
Can I choose what editing tools can be using with LinkToFill?
When setting up your LinkToFill document, you my choose to enable all editing tools, or only the signature and date tools.
Can I change the settings for a LinkToFill document later?
Yes! First select the document in MyForms and click LinkToFill on the right, or navigate to MyForms > Sent [and History] > LinkToFill and click Settings on the right. Then simply change your settings and click Return to MyForms at the bottom of the page.