Visa application forms package
Templates included in the Visa application forms package package: ds 11 form, w9 form, ds 82 and other forms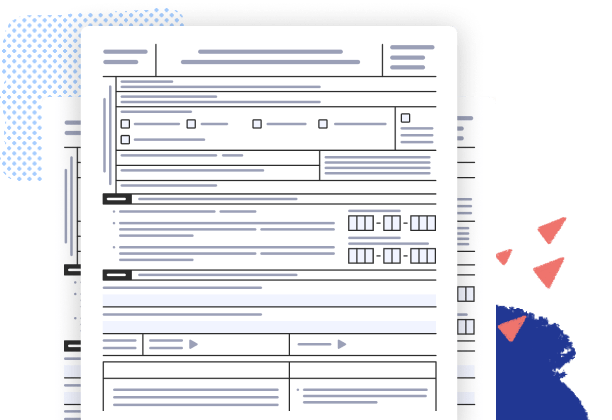 The documents you get with the Visa application forms package
Try pdfFiller's Visa application forms package to complete and send entire document groups at once. Save time and hassle searching and sorting documents - now you have all the forms you need accessible. It's also possible to only the forms you need from the package, to cut the costs even more.
Form packages in pdfFiller are manually categorized and contain the most popular paperwork cases such as tax submission, various applications, and agreements. The documents included in the Visa application forms package and other deals have no limits for filling out so you can use them for many purposes. Proceeding to the pdfFiller's editing tool, you can complete the required document, sign it digitally, and securely send out - in your browser window..
To start working on the Visa application package, click the Fill Now button on one of the templates. You'll be instantly taken to the editor. Take advantage of the Wizard tool to make the completion process easier. They will guide you through the template, highlighting the information you need to fill in to complete the paper as intended. Thus, you will never miss something and save time resubmitting the documents. After you finish a form, click Done and proceed with other forms in the package.
Forms description
A Form DS-11 is an application for a US Passport. It is used by United States citizens and US nationals who are applying for their first passport. This form can also be used by individuals who lost their passport, had a name change, or haven't had a passport for more than 15 years.
Form W-9 is used in the United States income tax system by a third party who must file an information return with the Internal Revenue Service. It requests the name, address, and taxpayer identification information of a taxpayer.
Form DS-82 is used to renew a US Passport. Generally, this document is used by someone who doesn't want to complete the process online. This form may be used by both US citizens and nationals who need to renew their passport. ... That passport must also have been issued when the applicant was at least 16 years of age.
Form SS-5 is a form from the Social Security Administration (SSA) that allows you to apply for a new or replacement Social Security card. ... Either way, you'll need to use the SS-5 form to get your new card. The SSA allows you up to three replacement cards each year and 10 replacement cards in your lifetime.
DS-64 is the form used for reporting to the US Department of State about your lost or stolen passport. The thing to note here is that the form doesn't request renewal and issuance of a new passport.
Visa application forms package FAQs
Below is a list of the most common customer questions. If you can't find an answer to your question, please don't hesitate to reach out to us.
What is the purpose of the W 9 Form?
Use Form W-9 to provide your correct Taxpayer Identification Number (TIN) to the person who is required to file an information return with the IRS to report, for example: Income paid to you. Real estate transactions. Mortgage interest you paid.
How do I get an SS 5 form?
Your birth name. Your birth date. Your parents' SSNs. Your original SSN.
What is a ds64 form?
Application Form DS-64 should be submitted when reporting a lost or stolen passport. It is not necessary to report the loss of a passport that has already expired. Once submitted, you need to replace your lost or stolen passport.
What our customers say about pdfFiller
See for yourself by reading reviews on the most popular&nbspresources:
So for I have had a great experience using it.Thanks Rick
Graphic arrows in the pdf are represented by the letter U. Can't move inserted text to new location. Circle is useless, odd shape, can't resize without border getting too thick and covering item to circle.